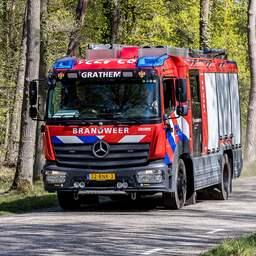 A 'very large wildfire' started on the Leenderfietspad in Eindhoven on Saturday evening around 7:35 p.m. The fire is now under control. A second fire started around 8.35 pm, at almost the same location.
The first fire would concern a fire front of more than thirty meters, according to the spokesman for the security region. An area of ​​about thirty by thirty square meters has burned down. Development is naturally inhibited by surrounding water and sand. The N2 has been closed for a while.
The fire brigade was present with two fire vehicles and a water tank to extinguish the fire. The other summoned units have returned to the barracks.
At around 8.35 pm, the fire brigade reported that another wildfire had flared up at almost the same location. Two fire extinguishers were also used for this fire. The fire is under control around 9:20 p.m.
---