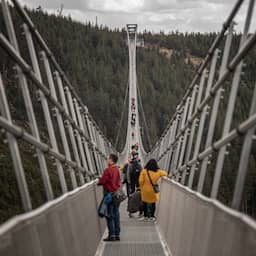 The Czech Republic opened the world's longest pedestrian suspension bridge on Friday. The Sky Bridge 721 in Dolni Morava is 721 meters long and hangs 95 meters above the ground. The bridge hangs over a mountain valley between the Eagle Mountains and Jesenice.
The first walkers to cross the bridge felt especially tension. "We came here because we like adrenaline," said hiker Michaela Klestilova as she made her way to the bridge. "We came here on foot and now we look forward to our reward."
The Sky Bridge 721 was built in two years and costs 200 million crowns (more than 8 million euros). The bridge is attached to six main load-bearing cables and sixty tension cables.
It is more than 1,100 meters above sea level, connecting two ridges in the northeastern region of the country, some 200 kilometers from Prague, close to the border with Poland.
---