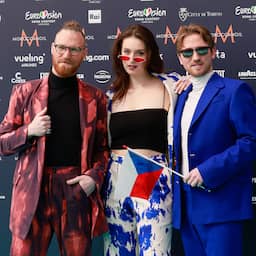 Welcome to the live blog of the final of the Eurovision Song Contest, which can be seen on NPO1 from 9 p.m. S10 secured a place in the final on Tuesday and will be eleventh tonight around 10.02 pm, between Spain and Ukraine. My name is Danja Koeleman and I will keep you informed of all developments during the live show in Turin.
No matter how the Song Contest ends for the three-piece music group: they are going on a tour through Europe.
Singer Dominika is from the Czech Republic and her two band members are from Norway. They know each other from the Leeds College of Music.
A mix of electro-pop and a bit of indie: that's how We Are Domi's music is summed up.
Half of the points of the final have already been distributed on Friday evening. Then the jury voted. The other half will come from people's homes tonight. You can vote for any country, except your own country. Countries that have already been eliminated can also vote.
During the flag parade, all artists briefly show themselves, together with the flag of their country. The Czech Republic can take the lead.
Before the flag parade starts, the show will be opened with a performance by singer Laura Pausini, who also presents the Eurovision Song Contest. She will sing a medley of songs during the opening of the finale, including her hit La Solitudine.
Of the 25 songs, 11 will not be in English.
Maneskin won the Eurovision Song Contest last year and has brought the organization to Italy. The band will perform later tonight with their new single Supermodel.
The show begins! It opens again with the flag parade that was introduced a few years ago. All artists and countries are presented herein.
This year's Eurovision Song Contest will take place in Turin, at PalaOlimpico, where the 2006 Olympic Games took place.
For those who do not want to miss S10 with De Diepte: the singer is the eleventh turn, around 10.02 pm.
The preview of the Eurovision Song Contest is underway on NPO1. According to Jan Smit, Serbia will be the surprise of the evening. In Corpore Sano by singer Konstrakta indeed seems to be becoming increasingly popular on streaming services, among others.
---