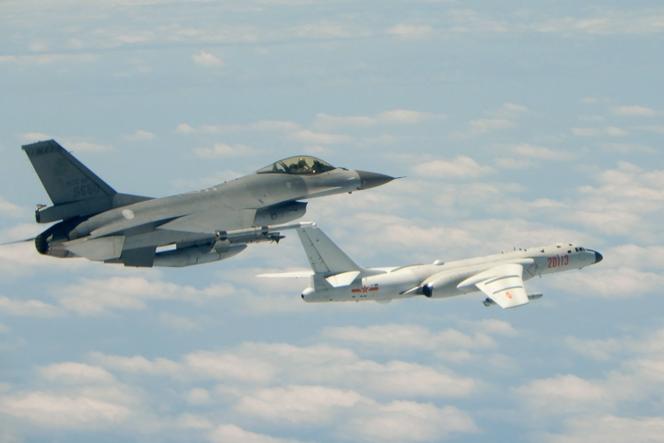 A Taiwanese Air Force F-16 fighter and a Chinese H-6K bomber over the Bashi Channel in southern Taiwan on May 11, 2018. HANDOUT / AFP
Chinese military experts remain very silent on the war in Ukraine for the time being. The People's Liberation Army (PLA) daily, the National Defense University or the Chinese Academy of Social Sciences, close to the party, have not produced official analyses, which can be explained by the ambiguous policy of support chosen by President Xi Jinping vis-à-vis his Russian partner, Vladimir Putin.
"Nevertheless, it is certain that the Chinese are watching many aspects of the conflict closely and learning from it," said Mathieu Duchâtel of the Institut Montaigne. At least for one reason: "With this complete failure of a blitzkrieg supported by 1,500 missiles to defeat in three days, it is surely necessary to completely rethink, for Taiwan, such a scenario, supposed to suppress the opposing defense apparatus, establish air superiority and achieve an immediate surrender before the United States intervenes. »
Read also the analysis: Article reserved for our subscribers Taiwan fears to be the Ukraine of China
In view of the great principle of war, "know your enemy and know yourself", the Russian failure can only astonish Beijing, like the Western capitals. Operationally, the Russian invasion campaign even violated the other three "fundamentals" of China's offensive doctrine, notes David Finkelstein, director of security affairs for China and the Indo-Pacific at the US CNA center. Arlington: those of surprise, unified coordination of operations and their overall support (logistics and politics).
"The Three Wars"
This former officer noted, on May 2, on the "War on the Rocks" blog, that it was not the aggressor, Vladimir Putin, but the Ukrainian President, Volodymyr Zelensky, who perfectly practiced the "three wars" defined by the Chinese Communist Party (CCP), namely the "war of public opinion", the "psychological war" and the "war of law". Under the authority of the CCP's political commissars, "People's Liberation Army analysts will pay close attention to the cognitive and human dimensions of this war, and they will read reports on the poor morale of Russian troops, the lack discipline in communications in the field, and charges of war crimes," said Mr. Finkelstein.
Opposite, attacked Ukraine resists, since the invasion of February 24, like a nation in arms. "The question, for China, is therefore that of the determination of a Taiwanese population which could organize itself into a long guerrilla warfare on the entire west coast of the island in the face of a landing", underlines Mathieu Duchâtel.
You have 59.32% of this article left to read. The following is for subscribers only.
---