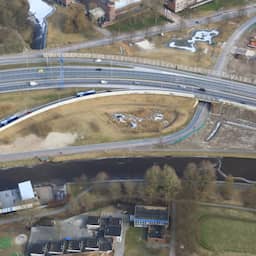 For the demolition of the Julianabrug, traffic on Brailleweg – which runs under it – will have to shift a bit to the east. The road under the viaduct will therefore be widened this weekend. Brailleweg will be closed to all traffic during these works. Traffic to and from the center is being diverted.
The Brailleweg is the connection between the A28 and the Emmaviaduct. The new A28 slip road towards Assen and the A28 exit Centrum have already been connected to this road. The road runs under the old Juliana Bridge. Now that the temporary Julianaplein has been taken into use, the old Julianabrug can be demolished. In order to allow traffic to continue during its demolition, Brailleweg will have to be widened slightly, so that traffic can move towards the east.
The Brailleweg will be widened on Friday, Saturday and Sunday. Local residents may experience noise nuisance.
Brailleweg will be closed to all traffic from 7:00 a.m. Friday 13 May to 6 a.m. Monday 16 May. As a result, the A28 exit Groningen-Centrum and the A28 ramp towards Assen are also closed. Motorists who want to go to the center of Groningen from the A28 will be diverted via Julianaplein and exit 37 Groningen-Helpman (Hereweg). Traffic from the center and the station towards the A28 will be diverted via Paterswoldseweg and exit 39 from Laan Corpus den Hoorn.
At the same time as Brailleweg, part of the Emmaviaduct will also be closed in both directions. Traffic from Stationsweg/Emmasingel can still drive over the Emmaviaduct to Parkweg, but the other way around is not possible.
Detour cyclists
Cyclists and pedestrians can use the underpass on the other side of the Noord-Willemskanaal, past rowing club Gyas, on Friday, Saturday and Sunday.
---