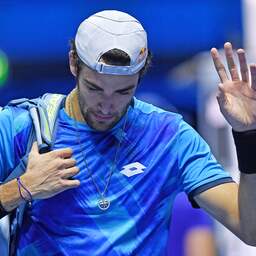 Matteo Berrettini has withdrawn from Roland Garros on Saturday. Although the number eight in the world has resumed training after hand surgery, it is not wise to return to the Grand Slam tournament in Paris.
"I'm back on the training track, getting back to a high level and my hand feels good," Berrettini wrote on social media. "But my team and I have come to the conclusion that it is not useful to return with matches for five sets won on clay."
The 26-year-old Italian, who has not played since mid-March, has therefore planned his comeback for the grass season. Last year he lost the final at Wimbledon to Novak Djokovic.
Berrettini set his best performance at Roland Garros last year. He then reached the quarterfinals. At the beginning of this year, he reached the semifinals of the Australian Open.
Roland Garros starts next Sunday. Djokovic defends his title on the clay in Paris. It is still uncertain whether thirteen-time winner Rafael Nadal can participate. The Spaniard suffered from his foot again at the Masters tournament in Rome.
---