Warner Bros. just released a new clip of the upcoming Elvis (2022) movie. In the clip we see Elvis, played by actor Austin Butler, during his first real performance. Tom Parker, played by actor Tom Hanks, immediately sees that Elvis is special. The scene is based on an actual performance by Elvis, which jump-started his career, although the events in the clip have been made a little more dramatic.
Director Baz Luhrmann's upcoming biopic has already been getting a lot of attention. Austin Butler's pictures as Elvis were met with praise and awe, and he was also praised for his dedication to the role.
The film is directed, produced and partly written by Luhrmann who is best known for films such as Moulin Rouge! (2001) and Romeo + Juliet (1996). The project is therefore in good hands.
The film is in cinemas from June 24.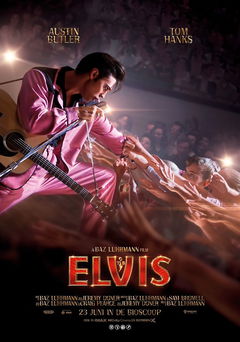 'Elvis' explores the life and music of Elvis Presley (Butler), through the perspective of his complicated relationship with his mysterious manager, Colonel Tom Parker (Hanks).
Image: Still 'Elvis' via TMDb
---