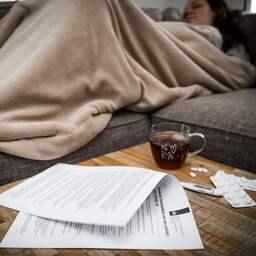 There are still people who live in isolation from the outside world for fear of contracting a corona infection, even now that all measures to prevent the spread have been abolished. Research by the RIVM shows that 2 percent of the 35,000 respondents still remain in home isolation as a precaution.
This mainly concerns people who have something wrong, for example people with a serious immune disorder. These people therefore more often do not visit other people, go to the theater or eat out at a restaurant.
The degree of social isolation varies from staying indoors completely to not going out or going out less often. "Social isolation is six times more common among participants with severe immune impairment and nearly three times more common among participants with other medical conditions than among participants without a medical condition."
People also stay at home more often so as not to infect loved ones or because they are not sure what risks they run themselves if they are infected. In addition, there is a group that says it will gradually resume social activities after the measures have been abolished.
People in isolation feel lonely and misunderstood
Those who stay at home miss social contacts and feel lonely and misunderstood, according to the research. RIVM cannot state the size of the various groups.
Minister Ernst Kuipers (Public Health) can imagine that people with fragile health, who, for example, have a reduced immune system, are and remain more careful.
"But even before corona, these people were more susceptible than others to the flu or a more serious course of another infection." According to the minister, "unfortunately the reality is that corona is one of many infections". "It's a nasty virus that won't go away. For some people that means more than for others."
---