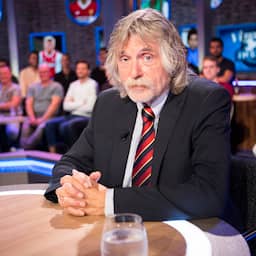 Talpa Network has decided that from next Monday Today Inside with Wilfred Genee, René van der Gijp and Johan Derksen will be broadcast again on SBS6.
"As far as we are concerned, Johan Derksen has clearly distanced himself enough from what went wrong. The choice to stop was his, but it has now become clear to him that even the biggest critics believe that a program such as Today Inside should have a place. in the Dutch media landscape. We share that opinion," TV director Marco Louwerens explains the choice for the return of the program.
"As a result of the broadcast, many pulled their hands off Johan. Radio stations, theaters and, in his opinion, also Talpa Network. We made it clear to him that we did not cancel him, but that we took a crystal clear position against the way in which he wanted to make his point clear and how the response was subsequently and dealt with the subject," the TV director continues. .
"We know that the men occasionally run on the edge and that typifies the program, but this was obviously a step too far in several respects."
The program, in which Derksen, Genee and Van der Gijp discussed the daily news, came into disrepute two weeks ago after Derksen told that he had penetrated a drink-conscious woman with a candle in the 1970s. During the broadcast, the guests at the table laughed at his statements.
Derksen refused to apologize
A day later, Derksen came back from his statements and said the football analyst that he had placed the candle on a pedestal between her legs. Talpa Network demanded that Derksen apologize in a next broadcast. This he refused. "I just want to say that I behaved uncivilized," said Derksen. He also said to stop at Today Inside: "You can't win this war. I like it that way."
The management of Talpa Network later announced that they would once again discuss the future of the program with Derksen, Genee and Van der Gijp. In that conversation they confirmed the end of the talk show.
Talpa called reports about return 'premature'
Derksen already told AD on Wednesday that the program will return on Monday, Talpa Network called that "premature". Paul Römer, TV and radio director of the media company, said on Thursday morning that nothing had been decided on the program yet.
It now appears that the bullet is through the church. "Today Inside remains a program where, among other things, discussions and conversations about various (sensitive) themes are held in public", concludes Louwerens.
---