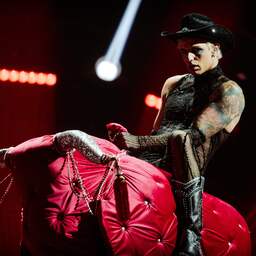 S10 already reached the final of the Eurovision Song Contest on Tuesday, but there are still plenty of reasons to watch the second semifinal tonight. For example, Serbia sings about Meghan Markle and San Marino has brought a gigantic mechanical bull.
Is she really singing it? Meghan Markle? Hey? When you first hear In Corpore Sano, it is mainly the name of Prince Harry's wife that stands out. Konstrakta's performance is praised for its minimalist, artistic character, with the Serbian singer washing her hands on stage. The song is about the state of healthcare in Serbia and places a critical eye on current beauty ideals. That is why the name of Markle comes up: Konstrakta knows how Prince Harry's wife gets her hair so shiny.
Poland is praised for Ochman's singing skills and The River's staging. The Polish singer won The Voice in his own country and is extremely popular. His voice stands out, as it turned out during rehearsals. To portray The River, the artistic team has opted for lots of rain, lightning and dancers. Opinions are divided about the dancers: one thinks they look like the chamois of a car wash, the other thinks they are beautiful.
The Eurovision Song Contest is also known for its bizarre performances and that of San Marino is definitely one of them. Achille Lauro wanted to participate in the music event so badly that when it became known that this did not work on behalf of Italy, he tried via San Marino. Successfully. The song Stripper convinced San Marino and now hopefully Europe as well. He pulls out all the stops for this: a barely concealing glitter outfit and a mechanical bull that he rides. And a whole lot of fire.
The Rasmus scored a worldwide hit in the early years of the 21st century with In The Shadows and is participating this year for Finland. The band said that because of corona that they had been sitting still for so long, the Eurovision Song Contest was the perfect opportunity to return to the stage. The band opens the second semifinal.
Sweden is sending a female solo artist for the first time in years. In 2020, The Mamas were finally going to break the tradition of male singers, but then corona came and so the soul singers never participated. Cornelia Jakobs thus gets the honor of being the first since 2014. Hold Me Closer was seen as top 3 material before rehearsals in Turin. She has now failed, possibly also because she had bad luck with the rehearsal every time.
These countries will continue tonight according to the bookmakers
Sweden, Poland, Australia, Estonia, Czech Republic, Serbia, Finland, Belgium, Azerbaijan and Cyprus.
---