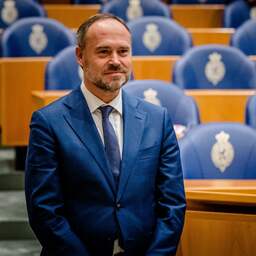 There was a reaction with surprise and incomprehension to VVD MP Ruud Verkuijlen, who delivered his so-called maiden speech on Thursday during a debate about the problems with children placed out of home. During this first speech in parliament it is good practice not to interrupt someone, but some parties wanted to ask questions to the VVD.
"Inappropriate", SP leader Lilian Marijnissen called the timing. "The VVD is the largest party and provides the prime minister." GroenLinks MP Lisa Westerveld added that the VVD also supplied the Minister for Legal Protection in recent years. "I feel a little bit of discomfort. This debate is too important not to answer questions."
MP Pieter Omtzigt suggested that the second spokesperson for the VVD answer questions on this file, but Verkuijlen, who could have chosen to allow interruptions, wanted to "maintain the tradition" and did not allow questions. He promised to do so later in the debate.
Speaker of the House Vera Bergkamp also did not want to intervene. "Not interrupting is an unwritten rule that I also apply here."
Parents and children left the hall
Parents affected by the allowance scandal and children placed out of home who followed the debate in the public gallery left the plenary room in protest. It was precisely at that time that Verkuijlen was talking about the importance of assistance for victims of parents and children "who are sitting in the public gallery".
"The VVD section in the Chamber is full, but the public gallery is empty. Does Verkuijlen think he has contributed to the restoration of confidence in politics?" Marijnissen wondered after his contribution.
"I am ashamed to death," said BBB MP Caroline van der Plas. "I apologize to the parents and children involved in the affair. We don't look good on it."
The House debates the problems with the out-of-home placement of children, especially children of benefit parents. Yesterday it was announced that a total of 1,675 children of victimized parents have been removed from their homes, which is considerably more than the 1,115 children reported at the end of last year. This increase is partly due to the inclusion of the year 2021.
---