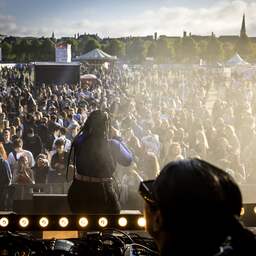 Against the wishes of the alderman, the entire city council has announced that the Liberation Festival will only receive a subsidy if there is again free entrance. Councilor Glimina Chakor did not think it was the right time for that decision, the city council ignored her advice.
This is reported by RTV Noord. The municipality of Groningen transferred a subsidy of 84,000 euros to the festival. In the run-up to May 5, the entire city council also announced that they were very displeased with the entrance fee, the college of mayor and aldermen felt the same way. With the decision of Wednesday evening, Groningen politicians let you know that there will only be a subsidy from the City Hall if the entrance fee is reversed.
Festival director Ebel Jan van Dijk believes that conclusions are drawn too quickly and that in this way the result of the evaluation – which has yet to come – is not taken seriously in advance.
Alderman responsible Glimina Chakor (GroenLinks) informed the politicians that the motion in question comes too early in her opinion and that she wants to include the results of the evaluation in the decision. She did say that she agreed with the council and that the council also favors an 'open and accessible' festival.
---