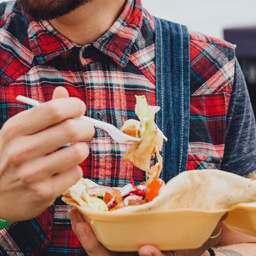 The Netherlands is preparing for a blistering festival summer. But what will we eat at the festivals this year? And are there even enough food trucks and employees to satisfy our hunger?
Festivals are no longer just about music, but also about food and drink. But after two years of no events, many caterers have run out of money and there is little left to invest and innovate.
This summer, food trend watcher and festival enthusiast Gijsbregt Brouwer suspects that not much will change in terms of offer. That means there will be vegan kebabs, Mexican snacks such as tacos, churros and spring rolls.
In any case, it will be a tough summer for the caterers, says Brouwer. "Mainly because of too few staff. And you notice that because the lines are longer." He already experienced this himself at a few festivals that he visited on King's Day.
A growing need for more luxurious food
If we look a little further ahead, Brouwer foresees a growing need for more luxurious food at festivals. "First you only had fries and burgers, then a lot of street food. In the coming years we will move to restaurant-like settings where you can sit quietly for a three-course lunch. That can be a restaurant on the festival site or near the stage."
The ultimate example of this is Tomorrowland, where star chefs cook for the happy few in a box above the stage. "That will slowly trickle down and will be within reach for all visitors."
Maartje Nelissen of creative and sustainable catering agency The Food Line-up has already received a number of requests for pop-up restaurants at festivals. She also notices that many chefs from her network are a little less eager to get jobs due to the two-year pandemic. "Many chefs and caterers have a choice and more often choose business events or the pearls among festivals, so that they know for sure that they are selling well. After two years of corona, they simply can no longer take any risks."
You can order more often via an app
Another trend – which is slowing down, but is likely to continue this year, partly due to the staff shortage – is automation. Order and pay via an app and tap your own beer, for example. Brouwer: "You take the staff out. That sounds unkind because you want to see people at a festival. But on the other hand: you feel there are always too few people working and you always have to wait too long for your food or drink."
"The staff shortage is a huge challenge. You have to pay your employees more, but they have less experience. That affects entrepreneurs."
Gijsbregt Brouwer, food trend watcher
Is there still enough supply? According to Nelissen, yes. "The number of caterers that have gone bankrupt is small. I do know a lot of people who have started doing something different. Or they have become smaller: a few food trucks leave the door and go behind the counter again. The staff shortage is an enormous challenge. you have to pay employees more, but they have less experience.
She does not hope that entrepreneurs will reduce their portions or increase their prices because of the rising raw material and gas prices. "I'm afraid this is inevitable."
High demand for pizza
Old Scuola has two restaurants in Rotterdam and eight food trucks. This season, a number of trucks are deliberately standing still. "We have been doing festival catering for ten years now and this year there is again plenty of demand for our pizzas," says co-owner Daniel van der Stel. Old Scuola's festival agenda is now filled, but with deliberately only one location per weekend. "In 2019 we visited 53 multi-day festivals in four months, now 15."
"We want to spend that many portions per hour. In that respect we have a difficult product; we make the pizzas by hand."
Daniel van der Stel, Old Scuola
This season, the caterer will serve the festivals that award the company faithfully every year, such as Pinkpop, Lowlands and Concert at SEA. At Mysteryland, the company normally has four outlets, but this year with one. "We are in the Champions League of food catering and want to spend so many portions per hour. We have a difficult product in that regard; we make the pizzas by hand. A strong team is extremely important. Next year we will take a step , this year we are slowing down."
The space that larger parties give away is filled by other caterers. Van der Stel: "As a result, I see creative young people doing very cool things at the festivals." The bulk caterers of the past are also taking back space, but there is also room for quality and smaller new parties, says Brouwer. Bulk caterers are large food stands that mainly sell a lot of food quickly. "In short, we have to take those longer lines for granted this year."
---