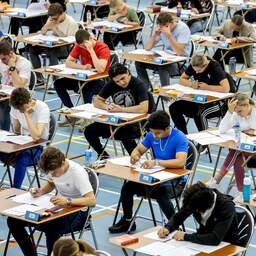 On the first day of the final exams for students, the action group LAKS received 31,000 complaints. Most complaints concerned the final exams for Dutch for VWO, Biology for VMBO and German for HAVO students.
The number of complaints for the first day can still rise, because students can submit complaints online 24 hours a day. On the first day of the final exams for students in 2021, LAKS received more than 22,000 complaints. They also had to do with the corona measures still in force at the time.
In 2019, there were more than eighteen thousand complaints on the first day of the exam. The final exams were canceled in 2020 due to the corona crisis.
Students with complaints about the final exams could contact a telephone team of ten people between 12:00 and 19:00. By 2 p.m., 3,027 complaints had been received online and by telephone. The counter stood at about 15,000 complaints around 5 p.m.
Dutch too long, biology too unclear
The LAKS received many complaints about the Dutch exam from vwo students. That would be too long and they would run out of time.
VMBO students mainly complained about the biology exam, which is said to have been drafted indistinctly. Many complaints were also received about the German havo exam.
Nearly 200,000 high school students began their final exams on Thursday. VMBO students took their final exams in biology and Dutch, Havists took German and geography, and at VWO students started with Dutch and music.
Due to the corona crisis, the exams in secondary education will also take place in a modified form this school year. Students may take an extra resit and spread their exams over two periods.
During these periods, students can take exams
First examination period: 12 to 30 May (pupils receive the results on 9 June or 15 June (vmbo)) Second examination period: 13 to 24 June (pupils receive the results on 1 July) Third examination period: 5 to 8 July (intended for resits, students will receive the results on July 14)
Experts and LAKS expect negative consequences of pandemic
Many students who start their final exam period on Thursday will experience consequences of their education in corona time in further education. That is what the VO council and the LAKS said to NU.nl on Thursday morning.
They need to be monitored more closely, the educational organizations argue, because the 2.5 years of closed schools and digital lessons have resulted in anything but a normal school time.
---