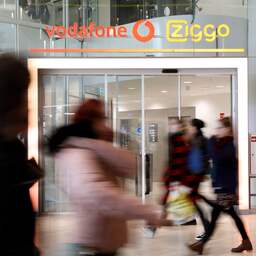 VodafoneZiggo lost internet and television customers in the first quarter, according to the report on Wednesday quarterly figures† According to the telecom company, this is largely due to the loss of the Formula 1 broadcasting rights.
Max Verstappen became world champion in the highest racing class last year and attracted a lot of viewers. They have partly switched now that Ziggo no longer broadcasts the matches. As a result, the provider claims to have lost approximately 16,500 internet customers and 24,500 television customers.
This loss of customers made little difference to VodafoneZiggo's finances, because the company also lost less on making F1 broadcasts and the rights.
In general, financial director Ritchy Drost speaks of a "solid quarter". More mobile subscribers were added and the number of customers purchasing both fixed and mobile increased. VodafoneZiggo does notice some competition from fiber optic providers.
VodafoneZiggo's turnover remained stable at just over 1 billion euros. Compared to a year earlier, operating profit rose by slightly more than 2 percent to 64.4 million euros.
Correction: The first version of this article stated that VodafoneZiggo's profit had risen to 480 million euros. This information came from the ANP news agency, but turned out to be incorrect. The message has been adjusted accordingly.
---