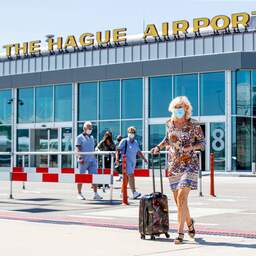 The crowds at Schiphol mean that travelers have local airports higher on their wish list, according to research by online travel agency the VakantieDiscounter. Rotterdam comes out as the big 'winner'.
The number of searches for flights from Rotterdam The Hague Airport (RTHA) has increased by no less than 52 percent.
Other Dutch airports are also busier than before. Groningen Airport Eelde increased by 32 percent and Eindhoven Airport by 30 percent. The number of searches for holidays from German airports is also increasing, by 37 percent.
What is striking is that Schiphol lags behind compared to the other airports. Amsterdam airport has to make do with a growth of only 3 percent.
Damage limited on bookings
The VakantieDiscounter does not yet see the popularity in searches reflected in the booking figures. "Despite the fact that many travelers search at local airports, we notice that there are more factors involved in making a choice than just the crowds at Schiphol," says a spokesperson. "That also depends, for example, on the choice of destination, availability and price."
---