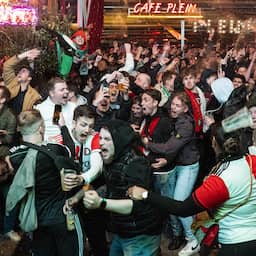 If Feyenoord succeeds in winning the Conference League in two weeks, the Rotterdammers will not be honored at the city hall on the Coolsingel. Due to a shortage of materials and personnel, the municipality of Rotterdam cannot guarantee safety in the city center.
"To everyone's and my great disappointment, an homage on the Coolsingel is practically not feasible. That is why, in consultation with Feyenoord, the location has been chosen for a tribute in De Kuip," says Mayor Ahmed Aboutaleb of Rotterdam.
The lack of staff is not only a problem in Rotterdam; the municipality of Amsterdam announced on Monday that Ajax will not be honored at the Museumplein when winning the national title due to a shortage of security guards. The team from Amsterdam will also receive a possible ceremony in their own stadium.
The Feyenoord players were honored on the Coolsingel after winning the championship in 2017. "It is of course a great pity that the traditional walk of players and staff to the steps of the town hall cannot be made if the final is won," says Dennis te Kloese of Feyenoord, general manager.
"The mayor thinks the same way, but has very clearly indicated to us today that it would be irresponsible and therefore not possible. It is now up to us, if the time comes, to organize a celebration in and around De Kuip in such a way that this will be a unique experience for life for all those present."
The final of the Conference League between Feyenoord and AS Roma will be played on Wednesday 25 May in the Albanian capital Tirana. The game is led by the Romanian referee István Kovács.
---