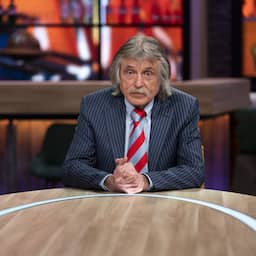 Today Inside will return to television, according to Johan Derksen, including himself, Wilfred Genee and René van der Gijp. After an absence of more than two weeks, the daily TV program will be back on the tube from Monday, says Derksen. However, Talpa Network calls that claim "premature".
Derksen tells the AD that he did not resign because of the fuss about his statements about sexual abuse of a woman, but because he did not receive support from the Talpa management. In the meantime, he says, hard work has been done behind the scenes on the return of the program. Derksen gives no further explanation. According to him, Talpa will make a statement in the course of Wednesday.
In his interview with the AD, Derksen again expresses no regrets about his statements. "De Mol (John de Mol from Talpa, ed.) knew who he was bringing in. He wanted high-profile television and good viewing figures, we will take care of that. He also knew that we occasionally cause a riot."
The program, in which Derksen, Genee and Van der Gijp discussed the daily news, came into disrepute two weeks ago after Derksen told that he had penetrated a drink-conscious woman with a candle in the 1970s. In the broadcast, the other guests at the table laughed at his statements.
Talpa Network announces that there is no question of a return of the program yet. "The reporting regarding a return of the Today Inside program on SBS6 is premature. We had a good conversation with the men last Sunday to look back in peace on the past weeks and what happened. reporting is we will come back to this from SBS6."
Derksen refused to apologize
A day later, Derksen returned from his statements and said that he had placed the candle on a pedestal between her legs. Talpa Network, which broadcast Inside Today, demanded that the football analyst apologize in Thursday's broadcast. This he refused. "I just want to say that I behaved rudely." Derksen also said to stop at Today Inside: "You can't win this war. I like it that way."
The management of Talpa Network later announced that it would again discuss the future of the program with Derksen, Genee and Van der Gijp. In that conversation they confirmed the end of the talk show.
Derksen's statements led to a storm of criticism. Mariëtte Hamer, the government commissioner for sexual violence, also reacted disapprovingly. "In the 1960s and 1970s, this behavior was not normal," she said. Secretary of State Gunay Uslu (Culture and Media) said what has been discussed in the program is "hurtful and humiliating to anyone who has experienced sexual violence and their loved ones".
OM is investigating the statements
The Public Prosecution Service (OM) said it would investigate the analyst's statements. "It is clear that this is highly disapproved of transgressive behavior. The way in which it is discussed in the TV program is also particularly hurtful. This can affect victims of sexual offenses deeply even after a long time," the Public Prosecution Service reported. two days after Derksen's statements in an explanation.
A number of major sponsors, including TOTO and Stella Fietsen, ended their collaboration with Today Inside after Derksen's statements.
NH Radio also broke ties with Derksen. He could be heard on the channel with the music program Music for adults. "We can no longer separate his statements, which are very sensitive, are extremely misogynistic and derogatory and which are also made in a laughing atmosphere, from the person who presents a program with us every week", the editorial board explained the decision. to NH Nieuws.
---