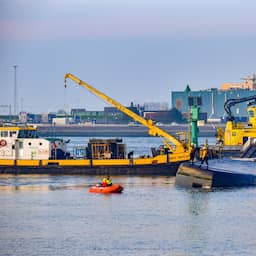 A body that was recovered last Sunday in the water near the Noordzeeweg in Rozenburg belongs to the crew member of the Mar-Grethe, the inland vessel that capsized on 14 April near the Maeslantkering near Hoek van Holland.
Investigation has confirmed that it concerns the twenty-year-old mate from Urk. He had been missing since the barge capsized on the Nieuwe Waterweg in April. Police have informed the family that his body has been found.
After the ship capsized on April 14, the skipper of the 40-meter-long vessel was able to be rescued. Specialized divers searched the water for the missing mate, but he was not found.
At the time of the incident, the tide was low and the water was flowing towards the sea. Therefore, after a few days, no more active searches were made in the area where the ship had capsized. A spokesperson for the Rotterdam-Rijnmond Security Region said he would remain "extra alert".
Mayor Cees van den Bos is grateful that the body of the young resident of Urken has now been found, he said on Twitter.
The cause of the accident is being investigated
As usual with major accidents, the incident is being investigated by various authorities, Omroep Flevoland reports. The Public Prosecution Service is conducting an investigation together with the Seaport Police, the Human Environment and Transport Inspectorate and the Dutch Labor Inspectorate.
The Dutch Safety Board and an insurance company are also investigating why the inland vessel may have capsized.
---