Private delivery men, at the heart of the war.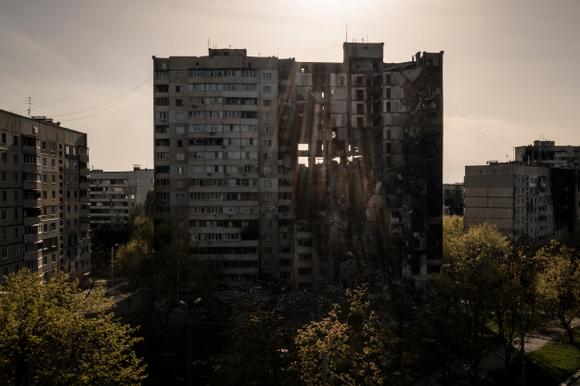 The city of Kharkiv, the second in the country, has been heavily affected since the start of the war in Ukraine. Like this building, April 25, 2022. FELIPE DANA / AP
A report by Agence France-Presse recounts the daily life of three humanitarian aid deliverers in the city of Kharkiv.
The trunk filled to the brim with food, the techno music blasting: in their red Opel Astra, they deliver every day in neighborhoods regularly targeted by Russian rockets. The last two days have been rather calm in this large city in the northeast, the second largest in Ukraine.
But this Tuesday, the sound of the Ukrainian cannon like that of the Russian artillery resounded again.
The front line is less than 5 km from the northern and eastern districts of Kharkiv, and the Russian border is a few tens of kilometers away. Not enough to discourage the three volunteers, Nazar, Alexiï and Oleg.
In front of a kindergarten converted into a food storage center, they load the trunk of their car with plastic bags each containing bread and canned goods. "Our main objective is to feed children and the elderly, they need it most. Unfortunately, at the moment people don't have any money or jobs, many of them can't even get to a supermarket," says 24-year-old Nazar Tishchenko.
---