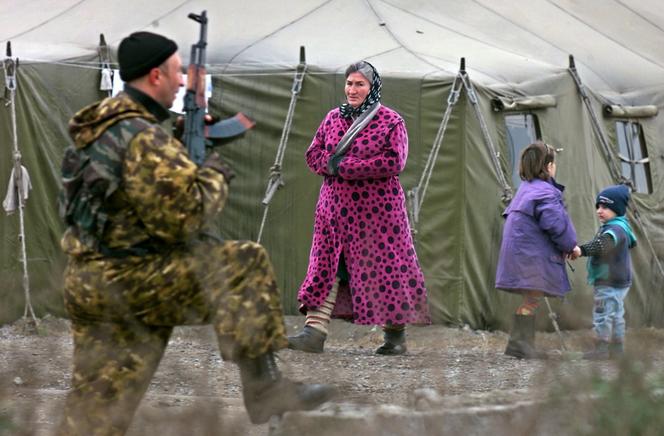 In the Znamenskoe refugee camp, in Chechnya, in November 2000. ALEXANDER NEMENOV / AFP
To each of his Western interlocutors passing through kyiv, Volodymyr Zelensky evokes the fate of his compatriots forced to flee, towards Russia, the incessant bombardments on the city of Mariupol. According to the Ukrainian president, they would thus be thousands, as he repeated during the lightning visit, on April 24, of the American secretary of state, Antony Blinken, transported to Russian territory via "filtration camps". Three days earlier, on April 21, reporting to Vladimir Putin on the "taking" of Mariupol, the Russian Defense Minister, Sergei Shoigu, himself put forward the figure of 142,000 Ukrainians evacuated from the city by the Russian forces.
Read also: Article reserved for our subscribers War in Ukraine: after having had to go through Russia, the escape of survivors from Mariupol to Estonia
From the beginning of March, barely a few days after the start of the war launched by the Kremlin against Ukraine, the question of humanitarian corridors to evacuate civilians from this large port city, located on the shores of the 'Azov, raised suspicions. On the Russian side, these corridors would in fact lead to camps from which civilians could leave, while others, deemed suspicious by the Russian authorities, would disappear. On March 24, on its Instagram account, the municipality of Mariupol, surrounded for three weeks, thus warned of forced evacuations of inhabitants "taken to filtration camps", by bus or conveyed in vehicles, before being spread across the border to Taganrog, Rostov, and other Russian cities.
Cell phone search
This practice is not new. During the first war in Chechnya in the early 1990s, then again during the second war which began under Vladimir Putin in 1999, "filtration camps", according to the same expression, were created. In these centres, "boeviki", fighters identified as such, or suspected of having taken up arms against Moscow, were savagely tortured.
In Ukraine, the rare testimonies collected so far by the international press on the existence of these camps converge: the displaced have to wait for days, and undergo intense interrogations there. The contents of their mobile phones are checked, the tattoos on their bodies, supposed to testify to their belonging to the Ukrainian Azov battalion, are inspected. And no one can say for sure what happens to the others.
Read also: Article reserved for our subscribers In the war in Ukraine, "Russia's strategic failure is already there"
A "process" also identified by Human Rights Watch on the basis of accounts of people taken to Bezimenne, a locality located in the self-proclaimed pro-Russian republic of Donetsk. "The Russian personnel took fingerprints and their personal data, photographed them and made them fill out a questionnaire, in particular on their links with the Ukrainian army and their political opinions", relates the NGO in a press release published on 26 april.
You have 8.61% of this article left to read. The following is for subscribers only.
---