Universal Pictures just released the first official trailer for the upcoming drama film Mrs. Harris Goes to Paris (2022) shared. The gripping film starring Lesley Manville is about a British housekeeper who finds herself in an unusual adventure.
mrs. Harris is a nondescript woman and it is part of her job as a cleaner to be as invisible as possible. She has been waiting for her son for years, who never returned after the war. Her life changes when she sees a genuine Christian Dior couture dress at one of her employers. She falls madly in love with the special piece of clothing and dreams of owning one of her own one day. That dream lands her on a great adventure. Watch the trailer for Mrs. Harris Goes to Paris below:
The film is based on the book of the same name by writer Paul Gallico, which was adapted into a screenplay by Carroll Cartwright and Olivia Hetreed. mrs. Harris Goes to Paris was directed by Anthony Fabian. In addition to Manville, Isabelle Huppert, Jason Isaacs, Anna Chancellor, Lambert Wilson, Alba Baptista, Lucas Bravo and Rose Williams also star in the drama film.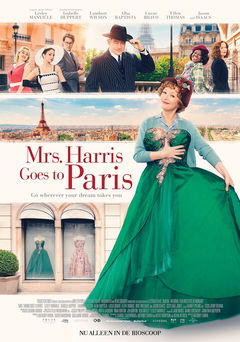 mrs. Harris Goes to Paris (2022)
A widow in 1950s London falls madly in love with a Dior couture dress and decides she must have one of her own.
mrs. Harris Goes to Paris is from Thursday 20 October 2022 to be seen in cinemas in the Netherlands. The full cinema agenda can be found here.
Image: Still 'Mrs. Harris Goes to Paris' via Universal Pictures
Text: Universal Pictures
---