Universal Pictures has shared a new trailer for the upcoming horror movie The Black Phone (2022). The release date was pushed forward last year, but now it is almost time: the film starring Ethan Hawke can be seen in cinemas from June.
Hawke plays a notorious killer named 'The Grabber' in the film. The story revolves around Finney Shaw, a smart but shy 13-year-old boy. The Grabber kidnaps Shaw and locks him in a soundproof basement. There's nothing there, except a broken phone. Yelling for help doesn't help. When the phone suddenly starts to ring, Shaw picks up and puts people on the line who are no longer alive…
The role of Finney Shaw is played by Mason Thames, and in addition to Hawke and Thames, Madeleine McGraw, Jeremy Davies, Michael Banks Repeta and James Ransone also star in The Black Phone. The movie is directed by Scott Derrickson. Derrickson co-wrote the screenplay with C. Robert Cargill. The two gentlemen based themselves on a short story by Joe Hill, the son of Stephen King.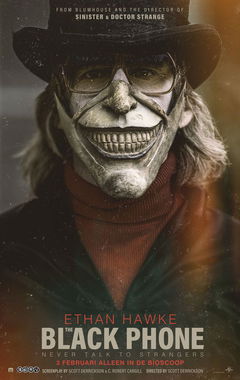 7.5
Finney Shaw, a smart but shy 13-year-old boy, is kidnapped by a sadistic killer who locks him in a soundproof basement.
The Black Phone is out thursday 23 june to see in the cinema. The full cinema agenda can be found here.
Image: Still 'The Black Phone' via TMDb
Text: Universal Pictures
---