The gripping horror film Don't Breathe 2 (2021), the sequel to the heart-poundingly suspenseful Don't Breathe (2016), is coming to Netflix soon! From the middle of next month, Fede Alvarez's film can be seen on the platform.
The sequel takes place a few years after the events of Don't Breathe. The story revolves again around Norman Nordstrom, the blind man played by Stephen Lang. He has been hiding for years in a hut, where he lives with a young girl he rescued from a burning house. They lead a quiet life together, until the girl is kidnapped by a group of criminals. Nordstrom is forced to leave his hideout to save her.
In addition to Lang, Bobby Schofield, Adam Young, Stephanie Arcila Brendan Sexton III and Madelyn Grace also star in the film. Unlike the first film, the direction was not in the hands of Alvarez this time. Director Rodo Sayagues took on that responsibility this time. Alvarez wrote the screenplay with him. Production was in the hands of Sam Raimi and Rob Tapert.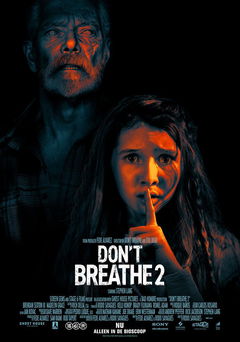 6.0 Watch on Netflix • 'Don't Breathe 2' is set several years after the deadly heist from 'Don't Breathe'. Norman Nordstrom (Stephen Lang) has been hiding in a cabin for years.
Don't Breathe 2 is out Friday 13 May to be seen on Netflix. The film can already be seen via Pathé Thuis and Ziggo On Demand. You can find the full range of Netflix here.
Image: Still 'Don't Breathe 2' via TMDb
Text: Netflix
---