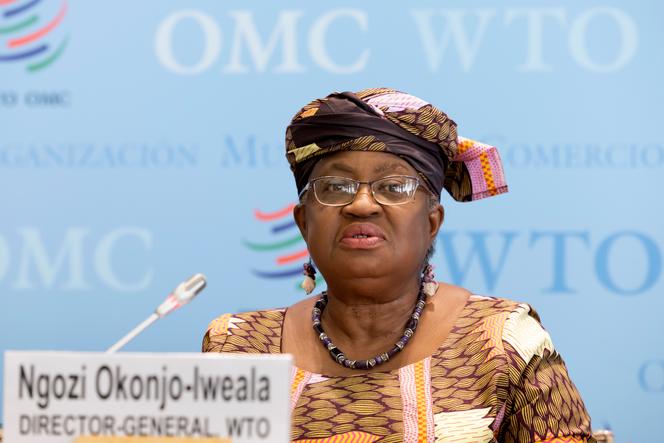 Ngozi Okonjo-Iweala, Director of the World Trade Organization, in Geneva (Switzerland), Tuesday April 12, 2022. SALVATORE DI NOLFI / AP
Unsurprisingly, the war in Ukraine and recent lockdowns in China have led the World Trade Organization (WTO) to revise down its forecast for merchandise trade growth for 2022 to 3%, from 4.7% previously. These forecasts, published Tuesday, April 12, are however very uncertain, since they are located in a very wide range, between 0.5% and 5.5%.
"Despite their small shares in global trade and production, Russia and Ukraine are major suppliers of essential goods, including food, energy and fertilizers," observes the organization, based in Geneva. The two countries account for 2.5% of world trade, but they provide 25% of wheat supplies and 45% of sunflower products. These shortages, which in turn lead to higher food prices, could be aggravated by export restrictions in other countries. These "threaten hunger and poverty for millions of people", according to the WTO, which calls for "international cooperation" to guarantee the free movement of agricultural raw materials. "Now is not the time to withdraw into ourselves. In a crisis, more trade is needed to ensure stable and equitable access to basic necessities", insisted the director of the organization, Ngozi Okonjo-Iweala.
Economic sanctions
Despite these uncertainties, the WTO draws attention to the ongoing transformation of the world trade landscape, disrupted by two successive shocks: the global pandemic, which disrupted supply chains, and the war in Ukraine, which deprived part of the world of its supplies of agricultural commodities. The organization first fears a "fragmentation" of world trade into distinct "geopolitical blocs", which could lead companies to reorganize their supply chains to deal with these risks and a decoupling of economies. "This could reduce global GDP by around 5% in the long term, in particular by limiting competition and stifling innovation", estimates the institution in a recent note.
"The block logic is not yet installed, even if geopolitical concerns matter more in trade relations, tempers Sébastien Jean, holder of the industrial economics chair at the National Conservatory of Arts and Crafts (CNAM), and political logic does not prevail only for certain sectors considered to be strategic. »
You have 51.59% of this article left to read. The following is for subscribers only.
---