Georgina Verbaan, Jacob Derwig and Barry Atsma are on the set of Klem the film. The actors once again take on the role of Kitty, Marius and Hugo for the cinema sequel to Klem (2017–2020) the series.
Georgina Verbaan posts a photo of her and her colleagues on the set to celebrate the start of the shooting. "They're back!" the actress writes. The feature film will continue after the final season, in which the life of tax official Hugo Warmond once again becomes dangerously entwined with that of criminal Marius.
The shooting takes place in Tuscany. Series maker Frank Ketelaar will direct the film. According to the official synopsis, Marius and Kitty have been living in Italy for some time now, where they are proud owners of a vineyard. Marius has made amends for his life, but the purchase of the vineyard turns out to be a bit off. Before Hugo knows it, his car is on fire and a battle for life and death begins. "Will it be I am leaving (2005– ) or more Gomorra (2014–2021) with an orange tinge" according to director Ketelaar.
Klem the film will be released in theaters at the end of 2022. An exact date is not yet known. BNNVARA will eventually also broadcast the cinema film on NPO 1. Seasons 1 to 3 of the series can now be viewed on NPO Plus.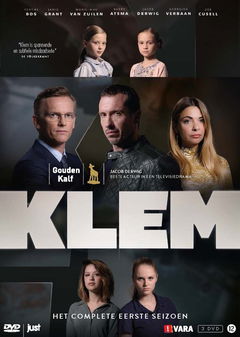 7.8 Look at NPO Start/Plus • What if you find out that your youngest daughter is best friends with the daughter of a dangerous criminal?
Image: Still 'Klem' via TMDb
---