In addition to our overview of films on TV, we regularly highlight the best film on TV for you, so that choosing a film is even easier. Tonight our TV movie tip is the comedy drama film The Terminal (2004).
Viktor Navorski (Tom Hanks), a man from an Eastern European country, arrives in New York. But after he leaves his country, war breaks out. Suddenly, Navorski is a man without a country, so he is banned from entering the US. However, he cannot be deported either, so he is told by the security manager to stay at the airport until his status can be established.
The Terminal is directed by Steven Spielberg and based on the partly true story of Mehran Karimi Nasseri, who spent 18 years at the Paris airport, from 1988 to 2006. In addition to Hanks, the other lead roles are played by Catherine Zeta-Jones and Stanley Tucci.
Watch the trailer for The Terminal here:
The Terminal airs tonight at 5:50 PM on Spike. The film can now also be seen via Pathé Thuis.
Have you seen The Terminal yet? Then view the overview of all films on TV. On this page you will find all TV movie tips for this week.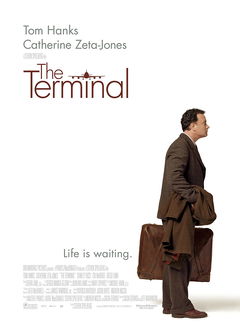 7.4 Look at Pathé Thuis (€ 2.99+) • An Eastern European, Viktor Navorsky, is visiting New York. When he arrives at Kennedy Airport, war breaks out in his homeland.
Beeld: Still 'The Terminal' via TMDb
---