Manuel Pellegrini, coach of Betis, poses in the Luis del Sol sports city. PACO PUENTES (EL PAÍS)
Manuel Pellegrini (Santiago, Chile; 68 years old) attends the Luis del Sol sports city with Betis training clothes. He is the second oldest coach in the five major leagues and has managed, among others, Madrid, Manchester City, Villarreal and Malaga. Now he triumphs at Betis.
Ask. Why did you return to the Spanish League to train Betis?
Answer. It came from a negative experience, the only one in my career. I couldn't finish my second year at West Ham. Betis' proposal seemed like an interesting challenge to me. And as I always accept challenges, from the moment I left my engineering career to be a coach, I accepted it. I no longer train for money or to prove things. I have not been wrong.
Q. Is it easier to train Betis than City or Madrid?
R. I have had the fortune to train greats like Madrid or City in Europe. I always remember the words of José Mourinho, when he said that he would never coach Málaga. Well, for me it was a great challenge to be able to do it. After Madrid I had many offers from many countries and the one from Malaga appeared to me, where I risked it without fear. It's not easier or harder, it's taking on the challenge of taking these teams to heights where they haven't been before. What we did at Villarreal in five years is there, among the top five in the League and reaching a Champions League semi-final. Malaga was the same. And now I want to make Betis grow with work and an attractive and very offensive methodology.
P. You have led many teams with different management models. Which do you think is the most appropriate?
R. I have always highly praised what Villarreal has done. A club is a company with a human part that is very different from a normal company. There are some decisions that only the president makes, but the president must find a sports director and a coach who set the guidelines when putting together a squad. The most important clubs in England have an important figure, that of the sports director, and a coach who also has a say in what is going to be done. Unfortunately, I found the big difference in Real Madrid and its president, Florentino Pérez. It was a luxury directing Madrid, but in a club the areas must be clear and delimited.
Q. Is Manuel Pellegrini a demanding coach?
R. I am very demanding first with myself. I am with all my players so that they give more with ambition and mentality, concepts with which many things are achieved. With the directive part I am very clear. Either I have a voice and a vote in the sports part or the relationship with the leadership will not be positive.
Q. What is more relevant to a coach, tactics or leadership ability?
R. I have no doubt that the most difficult part of a coach is managing a human group. One is reached in one way, another in another. Everyone must fight for a common idea and that group leadership is 60% of the coach's job. The second most important is the technical part of a player. What's the use of having brilliant tactical moves if we then lose the passes? The tactical part would be the third factor.
Q. Does the coach feel that he should be fair to his players?
A. I was a professional player for 15 years and I had the opportunity to be trained by a Chilean coach, Fernando Riera, coach of Eusebio's Benfica, among others. He told me something that stuck with me: 'When you win, never forget that you will lose again.' One as a technician is very pressured. A player who has cost a lot does not respond to you and the club pressures you to put him on. I have brought players to a club and I have a double obligation that they play well because I asked for them. I have always been impartial when dealing with this type of situation and my teams are played by those who I think are the best to face a match. That independence is sacred to me.
P. A few years ago you stated that it was impossible to break the Madrid-Barcelona binomial in Spain. Atlético emerged. Is it close to breaking even more?
R. Atlético emerged with great work from a coach like Simeone, whose idea you can share or not, but it is there. And also with an investment of more than 500 million to match the budgets of Madrid or Barcelona. Having that economic potential is very important and the budget continues to set. It's difficult for teams like Sevilla or Villarreal to win a league. What I do detect is that the differences have been muffled. Essentially, because there are no longer players of the size of Cristiano and Messi.
Q. How do you see Xavi's Barça?
R. It is costing you a lot. It's been a long time since we've seen a sixth or seventh Barcelona, ​​outside the Champions League and the Cup. I don't like to talk about realities that I don't know. I do say that seeing the above, the absence of Messi was going to be something irreplaceable in that club. I don't know the reasons, but Spanish football should never have let Messi and Cristiano escape. The League itself had to do something to make them stay.
Q. What is the best League in Europe?
R. The best for budget and organization is the Premier. But where the best football in Europe is played is in Spain.
P. Where is football going?
R. In England they like a certain type of football that has improved a lot since the arrival of a coach like Wenger, who changed the usual concept of English football of crosses, long ball and header. Spanish football has always been very technical and must continue in this sense to improve concepts such as the speed in moving the ball. There is German football, direct, for the gallery, attacking, with a great exhibitor such as Bayern Munich. Bayern, by the way, has a very clear club idea. I can't imagine it broken. It is a club that is taken with great seriousness.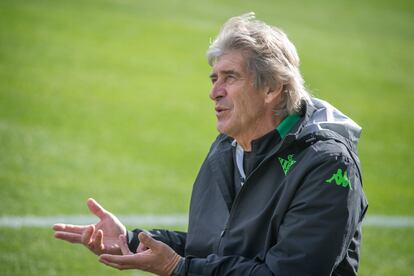 Manuel Pellegrini expresses himself during the interview. PACO PUENTES (EL PAÍS)
Q. Does Manuel Pellegrini have any dreams left to fulfill?
R. Not one, many. I have been fortunate to work 22 years in a row outside my country. I have managed more than 1,300 games on three continents and my demands at Betis are exactly the same as the first day in this profession. I don't know how many years I have left. I will continue as long as I feel that tingling on the bench and losing a game changes my personality.
P. Is it true that it is unbearable when you lose?
R. Absolutely unbearable.
Q. What do you think of the Super League?
R. A bad project. We can improve the Champions League, but leagues like the Premier cannot be destroyed. The fans love the leagues of their countries.
P. And a World Cup every two years?
R. It does not seem relevant to me. Every two years there are the European Championship and the Copa América. Players lose rest.
Q. Will you ever train the Chilean team?
R. I would love to manage the national team of my country. But there are two things. I don't like to work administratively like a coach does. I like the field. Then you have to develop an idea because it's not just about qualifying for a World Cup, but there would have to be a four-year process of work.
You can follow EL PAÍS DEPORTES on Facebook Y Twitter, or sign up here to receive our weekly newsletter.
Exclusive content for subscribers
read without limits
---