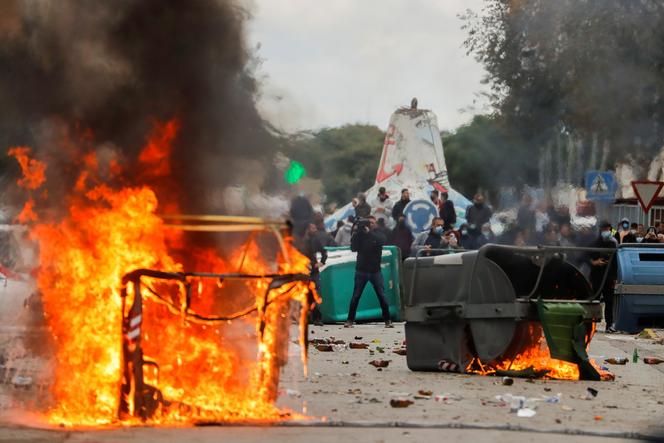 Metalworkers on strike, in Puerto Real, near Cadiz (southern Spain), November 24, 2021. JON NAZCA / REUTERS
After having obtained "90% of their demands", according to the union of Workers' Commissions (CCOO), the mooring workers (persons in charge of mooring operations) at the port of Barcelona ended a week-long strike on Monday 24 January. In addition to an increase in the workforce, the employers granted them a 6.7% increase in their wages. As much as the record inflation recorded in Spain in December 2021.
"Once again, the workers' struggle has borne fruit," the union concluded in a statement, hoping that "this agreement can serve as an example." In a country usually little shaken by social conflicts, strikes or threats of walkouts have multiplied in recent months, echoing a level of inflation never seen in thirty years.
Read also Article reserved for our subscribers In Spain, record spending for the 2022 budget
Workers in metalworking companies in the province of Cádiz, in Andalusia (South) – which employ nearly 29,000 people essential to the operation of large industrial groups established locally, such as Airbus, Navantia and Acerinox – had opened the ball of protests , November 9, 2021. Their muscular demonstrations at the entrance to the shipyards, accompanied by barricades and road cuts, and punctuated by clashes with the police, made headlines for more than ten days.
"Renovation of collective agreements paralyzed"
After five meetings and fifty-two hours of negotiations, an agreement was finally reached on November 25: a retroactive increase of 2% in salaries for the year 2021, which will be followed by similar increases in 2022 and 2023, before recovering , in 2024, 80% of the difference between the inflation recorded over the period and the increase in wages achieved. The minority unions criticized these "crumbs", given the level of inflation at the time.
If, in November, it amounted to 5.5%, in December, it jumped to 6.7%. Food prices alone rose by 5%. To mitigate the impact, the left-wing government increased retirement pensions by 2.5%, the minimum subsistence income by 3% and the salary of civil servants by 2%. "We must avoid wage increases which transform inflation into structural inflation", warned at the same time the Minister of the Economy, Nadia Calviño.
Read also Article reserved for our subscribers Spain is preparing a new increase in the minimum wage
The eight million Spanish workers governed by the 2,886 collective agreements registered in 2021 saw their wages increase on average by only 1.47%, the lowest increase in four years, recall the unions. "During the pandemic [de Covid-19], the renovation of collective agreements has been paralyzed, explains Raul Olmos, responsible for trade union action and employment of the CCOOs. However, the resumption of negotiations is accompanied by unbridled inflation which breaks the purchasing power of workers. The conflict will undoubtedly go crescendo, "he predicts.
You have 41% of this article left to read. The following is for subscribers only.
---