LETTER FROM COPENHAGEN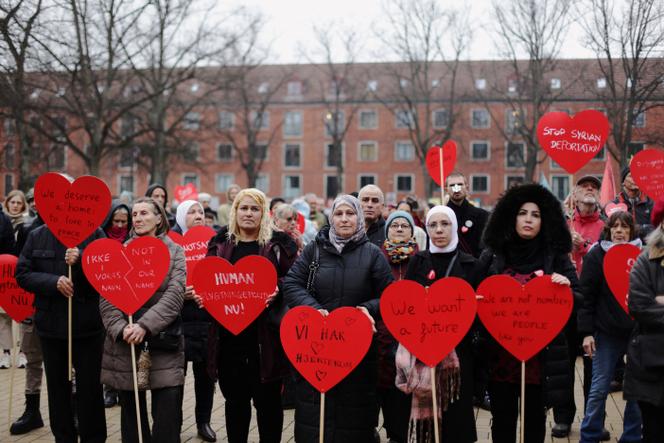 Demonstrators protest against the expulsion of Syrian families to their country of origin, in Copenhagen, in November 2021. THIBAULT SAVARY / AFP
What do the actor playing Euron Greyjoy in the Game of Thrones series, a former shopkeeper active on social networks, the principal of a provincial high school, a young woman born in Aleppo (Syria) and two writers in success? Answer: all, in their own way, oppose the asylum policy pursued by the Danish social-democratic government and, in particular, the will of Copenhagen to send back to their homes the Syrian refugees who fled the bloody regime of Bashar Al-Assad.
On Facebook, the group "Citizens who do not support the government's migration policy" brings together 40,000 people. But the activists – those who mobilize on a daily basis – are only a few dozen, assures Lene Kjaer. In her fifties, with light eyes and dyed black hair, a cigarette in her mouth, she's the one the refugees call when they don't know what to do anymore. It gives advice, puts them in contact with lawyers and tries to publicize their cases.
Read also Article reserved for our subscribers In Denmark, Asmaa and her husband, yesterday Syrian refugees, today placed in a detention center
This former shopkeeper, currently on a disability pension, shares her life between Odense, in central Denmark, and a caravan in Copenhagen. Her commitment dates back to 2016. She then discovered the deplorable living conditions of asylum seekers in Danish detention camps. They are mostly Iraqis and Afghans. But, in 2019, the authorities began to suspend the residence permits of Syrian refugees, on the pretext that the situation in Damascus and its region had "stabilized".
"In Denmark, we have 'hygge': people just want to live their lives quietly and turn a blind eye to what's going on around them. » Lene Kjaer, activist helping migrants
At the time, nobody talked about it. "I think the Danes don't imagine how we treat refugees. They trust the government. They believe the Minister of Immigration when he says he is not responsible for the decisions taken by the administration. Lene Kjaer fumes: "In Denmark, we have 'hygge': basically, people just want to live their lives quietly and they turn a blind eye to what's going on around them. »
It will take a message posted on Facebook by a high school student from Aleppo on March 31, 2021, for the mobilization to begin. In an open letter to Mette Frederiksen, Prime Minister Rahima Abdullah, 20, says her friend Aya, who arrived in 2015 with her family, "is no longer welcome in Denmark". His residence permit was not renewed. Instead of continuing her education in high school, she will have to go to a detention center – because Denmark has no agreement with Damascus and cannot force the refugees to return to Syria.
You have 59.75% of this article left to read. The following is for subscribers only.
---