Anyone who has teleworked in recent months in the center of Madrid has probably faced having to make video calls with infernal noise in the background: that of one, two or even several comprehensive reforms at the same time, which on occasions could even overlap with the work on the ground floor of a nearby building, now inhabited by tourists. "You only have to go out to the street to see it, wherever you go everything is full of scaffolding, cranes, construction containers. The city has entered such a mad whirlwind of transformation that its demand is already exceeding the capacity to supply it, because there are not enough resources or workers", underlines the architect Eduardo Mediero. "Many of the indicators of 2008 are happening again in this real estate boom," he adds.
The Ronda house, by the Hanghar studio in Madrid, has a space to prepare breakfast, lunch and dinner. It is a simple cooking area, more than a conventional domestic kitchen designed to be the center of the home or the meeting point of a family.LUIS DIAZ DIAZ
Mediero (Madrid, 30 years old) returned to his city in 2020 after teaching architecture at the University of Michigan. He took advantage of the stoppage of the pandemic to assess the direction to which he should be heading Hanghar, the study that he directs together with two other colleagues from his country house. They all belong to a generation of architects who entered and left the faculty with the recession on their backs, with which they have had to live more than they priori it was believed Few expect their sector to recover the megalomaniacal splendor of before. And in this study, they almost even prefer that this not even happen.
"We are very aware of why that situation was reached, that is why we avoid contributing to its return. In fact, the projects that we receive and that sound like a big hit, or that understand architecture as a speculative medium, we don't even consider directly," says Mediero. In Hanghar they have become accustomed to getting by with whatever there is, which is usually a very tight budget that forces them to economize on resources and reduce the number of constructive solutions to just a few. It seems like a handicap, and it is, but they see it as a design challenge.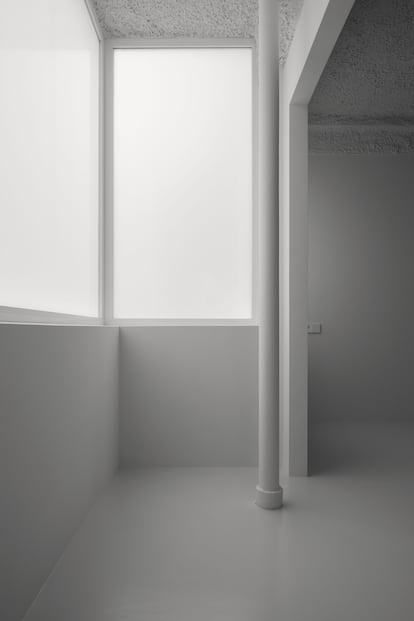 The Ronda house not only reproduces the structure of homes prior to the 1940s in Spain. Also that of the bourgeois houses of Barcelona in the 19th century, although without a palatial or elitist vocation.
Their Ronda house, the cheapest home they have renovated to date and for which they won the 2021 award from the Official College of Architects of Madrid in the emerging category, they completely rebuilt it using only local brick and a layer of plaster on the walls as well as the ceilings. "Instead of having a person clean and level them for days, with the cost that this entails, we projected the plaster on the ceiling with a gun and left it as is," explains its author, who rejected plasterboard and led reductionism as well. to the floor –it is continuous, it does not have joints– and to the kitchen, which includes a sink, the island, a worktop with an industrial extractor fan and two hoses: the necessary electrical appliances, the only ones that appear, were hidden on purpose so that they would not they will be seen
There is also no double bedroom, not even a corridor: the grid of this 85-square-meter flat consists of a series of six generic rooms, similar in size, connected through large central openings. That is, it can be a one-bedroom house with a huge public area, or a two-bedroom house with a smaller common room. Or a three-bedroom house. "The idea is that those who were going to live there could occupy the flat as they wished, not as we told them", explains the architect.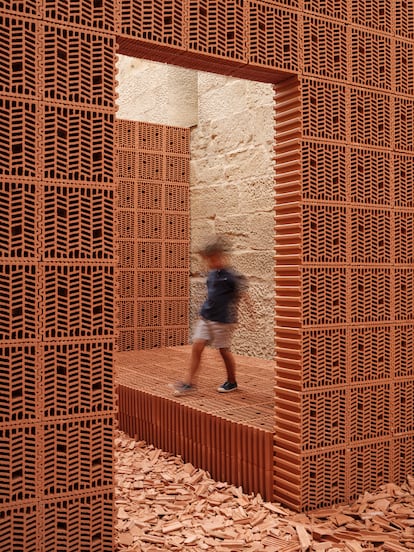 For Types of Spaces, in Logroño, Hanghar enlisted the help of Taubman College, the faculty of the University of Michigan where Mediero taught, and Cerámica Sampedro, the company from La Rioja that provided the thermoclay blocks for the installation.
But are there people who are willing to live in such a place? Apparently there is, a 75-year-old couple who ended up moving after falling in love with the apartment, whose structure can be strange because, in reality, it is far from the type of housing that the market focuses on, the most lucrative. "The typical one that is telling you loudly that it is made for a nuclear family and, surely, also heterosexual," Mediero considers. For the rest, according to him, the house has nothing new. "We are not inventing gunpowder. The typical huge corridor that connects the rooms, very typical of a super-utilitarian architecture, was introduced in Spain from the 1940s, until then houses were just that, a grid of linked rooms without a distributor that one already saw how they had to live according to their circumstances."
The same pattern follows the 65-square-meter Lara house that Hanghar has recently resolved, and the Types of Spaces pavilion, which they presented together with the mexican studio palm in the 2021 edition of concentric architecture festival from Logrono. The project was very similar to their flats, only that to build the walls here they used exclusively thermoclay blocks and a city alley, very narrow but with a lot of daily traffic. They took it over as in the old days –the passage was inside the old tobacco factory, next to its chimney–, and block by block they raised a grid full of rooms that, according to their geometric shapes, each one gave rise to one spatial condition or another.
It took a week to set up the shed, much longer than they had originally calculated. Mediero remembers it: "Then some [arquitectos] Italians that I love, they inflated a balloon and in 15 minutes they had finished its installation. Meanwhile, there we were, loading blocks with a wheelbarrow. It's the thing about inexperience, I guess." Nobody is born knowing, although Hanghar as such was born on January 1, 2021, knowing that it would not be like those architecture offices that are growing more and more. It is another of the maelstroms that its director is not interested in, and to avoid it from day one, he set an expiration date of 10 years: "On December 31, 2030, the studio will die. In a decade it will be something else, it will have another name, another structure, new ambitions. Because we have to accept it, when that date arrives we won't be the same either".
"We are not inventing gunpowder. The typical huge corridor that connects the rooms was introduced in Spain from the 1940s, until then the houses were just that, a grid of linked rooms without a distributor that one already saw how they had to inhabit them according to their circumstances", explains the architect Eduardo I measure over the Lara house.
Exclusive content for subscribers
read without limits
---