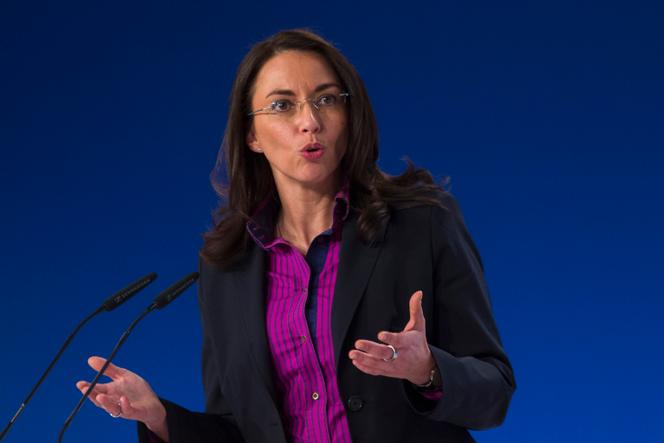 Yasmin Fahimi in Berlin, January 2014. THOMAS PETER / REUTERS
White smoke came out, Wednesday, January 26, from the chimney of the federation which oversees the big German unions, the DGB. Like cardinals assembled in an interminable conclave, the country's chief trade unionists deliberated for months before appointing their future representative. For the first time in its history, it is a woman of immigrant origin, Yasmin Fahimi, who will be the voice of eight unions and six million employees of Europe's leading economy. Aged 54, she should be officially elected in May to this central function in the German social debate. She will replace Reiner Hoffmann, the outgoing president, who has reached the age limit.
Originally from Lower Saxony and a graduate in chemistry, Yasmin Fahimi has been a member of the social democratic party, the SPD, in the Bundestag since 2017. She was general secretary of the party in 2014 and 2015, then worked as secretary of state in the ministry of labor when it was led by Andrea Nahles, until 2017. Previously, she accumulated a long experience within IG BCE , the union of mines, chemicals and energy.
Read also Article reserved for our subscribers In Germany, union and employers conclude a "balanced" agreement for industrial employees
This appointment is emblematic of the effort of the German unions – primarily IG Metall, which has 2.2 million members – to renew their image and attract more women and people of immigrant origin to their ranks. Despite their opening speech, they remain largely dominated by men of German origin, especially in industry. This scarcity of female profiles is apparently the cause of the length of the negotiations which have just been completed. Christiane Benner, vice president of IG Metall, has long been seen as the natural successor to Mr. Hoffmann. But she declined the offer, preferring to stay in her post.
Codecision system in crisis
Another sign of renewal was given in May 2021, when Volkswagen, the first German company, appointed Daniela Cavallo to head its Betriebsrat, the employees' organization.
Read also Article reserved for our subscribers Daniela Cavallo becomes the first female trade unionist at Volkswagen
The DGB federates the interests of eight major trade unions, including that of the services, that of the railway workers and that of the agri-food industry. Its influence in the economy is therefore less than that of IG Metall, for example, which negotiates the salaries of millions of employees in the country, including those in the automobile industry. However, it embodies the image of German trade unionism, which invented the famous Mitbestimmung, co-decision, which provides in particular for half of the seats on the supervisory board of a large company to be occupied by employee representatives.
You have 24.91% of this article left to read. The following is for subscribers only.
---