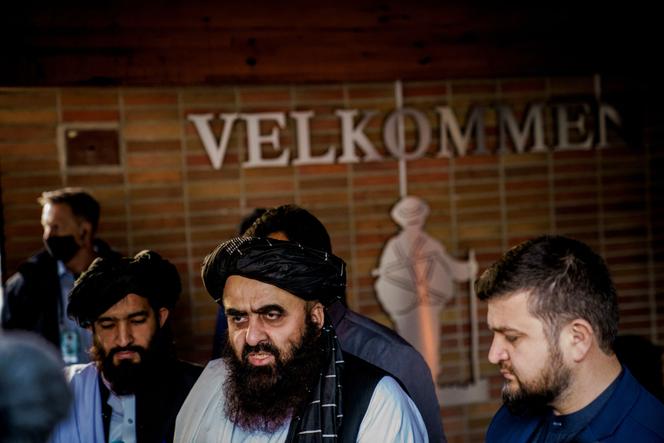 Taliban Foreign Minister of the Afghan government, Amir Khan Muttaqi, speaks to the media, after meeting with international special representatives and representatives of the Taliban, at the Soria Moria hotel, in Oslo, January 24, 2022. NTB / VIA REUTERS
This is the first official visit by the Taliban to Europe since they took control of Afghanistan in August 2021. Arriving on Saturday January 22 in Oslo, the delegation, made up of fifteen leaders of the fundamentalist regime, led by the Minister of Foreign Affairs, Amir Khan Muttaqi, met on Monday with representatives of several Western countries, including France, for discussions relating in particular to the humanitarian crisis raging in Afghanistan and respect for human rights.
The Taliban landed in Oslo on Saturday evening aboard a private jet chartered by the Norwegian government. They took up residence in the Soria Moria hotel, on the heights of the capital, where the talks took place behind closed doors. Impossible to know the content, nor the result: the Westerners have made no declaration.
Read also Article reserved for our subscribers UN appeal to raise $5 billion in aid for Afghanistan remains unanswered
According to Abdul Qahar Balkhi, spokesman for the foreign ministry, the talks, which were due to end on Tuesday, covered "the economy, humanitarian aid, security, the operation of the central bank, health and other important issues. At a press briefing on Monday, Amir Khan Muttaqi said that being there was "an achievement in itself".
Ahead of the visit, criticized by part of the diaspora, as well as by human rights activists in Afghanistan, Norwegian Foreign Minister Anniken Huitfeldt assured that the invitation was "not a legitimization or recognition" of the Islamist regime. "But we have to talk with those who de facto run the country," she explained.
"Solving the humanitarian crisis"
From New York, where he was due to take part in a meeting of the UN Security Council, chaired this month by Norway, Labor Prime Minister Jonas Gahr Store said he understood that "many react when they see the Taliban in Norway. They have values ​​as far from ours as possible," he observed. But it is they, he recalled, "who really run Afghanistan (…), whether this [nous] like it or not".
On his Twitter account, the American special representative Thomas West explained for his part: "As we seek to resolve the humanitarian crisis (…), we will pursue a lucid diplomacy with the Taliban, in accordance with our concern and our constant interest for a stable, rights-respecting and inclusive Afghanistan. Mr. West came accompanied by the US envoy for Afghan women's rights, Rina Amiri, as well as representatives of the Ministry of Finance and Usaid, the US development agency. French, English, German, Italian, Norwegian and European diplomats also took part in the discussions.
You have 45.78% of this article left to read. The following is for subscribers only.
---