After the first photos that appeared a week ago, Netflix is ​​now also launching the first trailer of the brand new crime series Murderville (2022). With Murderville, Netflix is ​​once again trying something new: the weekly guest actor in the series is expected to play along without a script, so it will be improvisation! The first images can now be seen.
In the trailer, the guest stars show how good they are as a detective and how serious a murder case is. Of course there is also laughter, how could it be otherwise! Despite the chaos, the stars sometimes come up with interesting solutions that surprise even themselves. This is all led by the lead detective played by Will Arnett and at the end of each episode it's up to the guest to pinpoint a culprit. Watch the trailer below.
Arnett will be joined in the first season by Annie Murphy, Conan O'Brien, Ken Jeong, Kumail Nanjiani, Marshawn Lynch and Sharon Stone.
Good news for the crime buffs, because Murderville can get me binged once. All six episodes will be available on Netflix from February 3, 2022.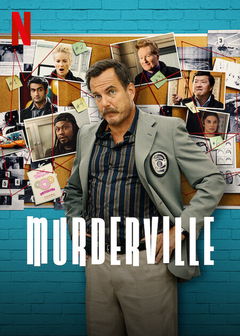 In this impromptu crime comedy, eccentric detective Terry Seattle investigates a series of murders involving celebrity guests who were not notified in advance.
Beeld: Still 'Murderville' via Netflix/Darren Michaels
Text: Netflix
.
---