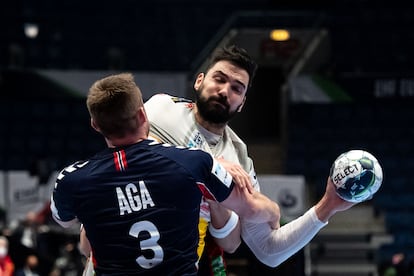 Vetle Aga stops Jorge Maqueda in an action of the match. VLADIMIR SIMICEK (AFP)
The classification of Spain for the semifinals of the European goes through a final this Tuesday against Poland (3:30 p.m., Teledeporte), a team with nothing to say in the tournament except being the judge of a decisive final day. It is not a bad deal for Hispanics in a championship that opened with so many sporting uncertainties and with the general threat of covid. They had the option of closing the pass against Norway, it was even worth a draw, but what happened on the track denied them all the ways.
Two places are divided to enter the fight for the medals and everything is between Spain, Sweden and Norway, now tied with six points. A win against Poland would shoot the team into the semi-finals. In the other duel of the group it will be played by the two Nordic teams. A tremendous clash of heads.
Hispanics had not fallen in a European for three editions, in 2018 against Slovenia. 17 games undefeated (championship record ahead of Sweden's 14 between 1998 and 2002), until they came across a Norway team that submitted them from head to toe. He did not need any extraordinary or abundant version of his great star, Sander Sagosen (four goals), who remained fallow on the bench for a good stretch. Reinkind, Toft, Gullerud, Barthold and company fend for themselves.
The distances were never insurmountable, they did not exceed five goals, but the Spanish sensations always led, in the best of cases, to skepticism. Permeable in defense almost all night, he ended up giving up when he was only able to score four goals in the last 20 minutes, and one of them with everything sentenced. It happened to him just when he managed to get within one (19-20) in the 41st minute with a shot by Agustín Casado, his first. A new scenario seemed to open then; however, nobody knew it but that was the beginning of the end for Spain, who spent 11 minutes dry.
The duel began with a 2-0 win for the selection to an empty goal after a robbery by Aleix Gómez when Norway attacked seven against five. But from that great initial action, the only thing that Spain was able to maintain until the break was the activity of its right winger, its best piece in a first half that rose very quickly. From then on, five goals in a row from the Nordics established their superiority, soon reflected in a 5-10 (minute 16).
Norway, with a Sagosen soon taking refuge on the bench, displayed a few minutes of fluid handball and great efficiency that was unapproachable for Spain despite a Pérez de Vargas who was not a sneak under the sticks either. That section opened a gap and marked the step because in attack the team also had a hard time seeing things clearly beyond Gómez, author of the first five goals of his own and almost half of the production until the intermission.
Jordi Ribera resorted to the defensive variant of 5:1 and, little by little, he was able to contain damage, first with a 3-0 run and in the end with a steal, of course, by Aleix Gómez to make the rubber (11-14 at rest). Spain held onto the scoreboard, although they needed other dynamics on the field.
He found better sensations in attack after 15 minutes of reflection. Dani Sarmiento -one of the veterans who was already considered lost due to age (37 years) and generational change, but recruited urgently due to the threat of covid- led the most straightened Spain in attack. Maqueda, another classic, also percussed from the outside.
The problem, however, was still behind because the Hispanics were unable to build a dam. The meeting entered into an exchange of blows, a scenario that even so, stroke by stroke, led him to get one with that goal from Casado. It seemed like another delivery of the infinite capacity of Spain to tame unfavorable scenarios and stretch the rope until it finds a crack through which to sneak. But this time the flip was not consummated. The final section, without traces of Aleix Gómez for a long time, was an exercise in impotence and, in the end, Jordi Ribera only had to try to make sure that the difference was not greater. Everything is pending for this Tuesday: a victory against Poland is worth another semi-final.
Spain, 23 – Norway, 27
Spain: Perez de Vargas; Aleix Gómez (5, 2p), Maqueda (6), Casado (3), Chema Márquez (1), Ángel Fernández (1) and Figueras (-) -initial team- Corrales (ps), Gurbindo (-), Peciña ( -), Sarmiento (1), Solé (2), Ariño (-), Gideón Guardiola (3), Tarrafeta (-) and Sánchez-Migallón (1)
Norway: Bergerud; Bjornsen (2), Reinkind (4), Gullerud (5), O'Sullivan (-), Sagosen (4) y Barthold (6, 1p) -equipo inicial- Saeveraas (ps), Aga (), Overjordet (2) , Overby (-), Toft (4), Tonnesen (-), Gulliksen (-), Blonz (-) y Rambo (-)
Score every five minutes: 2-1, 2-5, 5-10, 9-12, 10-13 and 11-14 (Break); 14-17, 18-20, 19-22, 19-24, 21-26 and 23-27 (Final)
Referees: Pavicevic and Raznatovic. They expelled Vetle Aga (m.60) for three exclusions. Maqueda, Casado, Toft, Overby and Tonnesen were excluded for two minutes.
Ondrej Nepela Arena de Bratislava.
You can follow EL PAÍS DEPORTES on Facebook Y Twitter, or sign up here to receive our weekly newsletter.
---