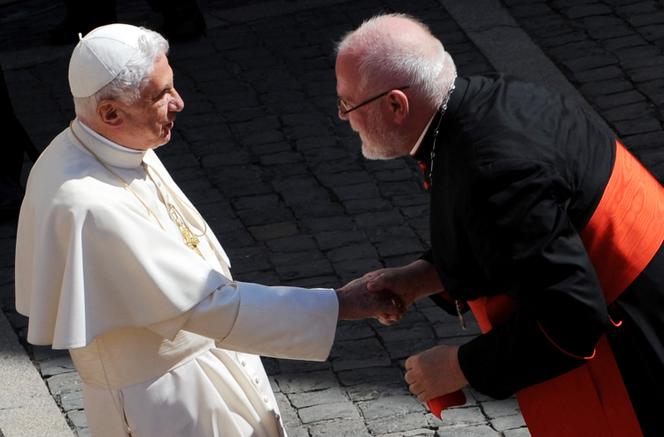 Former Pope Benedict XVI and German Cardinal Reinhard Marx, August 31, 2011, in Castel Gandolfo, near Rome. TIZIANA FABI / AFP
Another dark day for the Catholic Church. Certainly, the report published by the Bavarian law firm Westpfahl Spilker Wastl (WSW), Thursday, January 20, is not the first to describe the extent of sexual abuse committed by clerics, in recent decades, in a Germany regularly shaken by this type of revelations since 2010. But, by pointing out the shortcomings of Joseph Ratzinger when he was Archbishop of Munich and Freising (1977-1982), he is the first to directly accuse a former pope – Benedict XVI (2005- 2013), aged 94 – of having protected attacking priests.
1,900 pages long, this report, based on hundreds of documents and the hearing of 56 witnesses, reports 235 alleged perpetrators of sexual assaults committed between 1945 and 2019 in the Archdiocese of Munich and Freising. A total of 497 victims have also been identified, slightly more boys than girls, most of them children or adolescents at the time of the events. With regard to the future Benedict XVI, the authors believe that he made "bad decisions" in four cases where he did not intervene when he was in charge of the archdiocese, whereas, for two of between them, the implicated priests had already been condemned by German justice.
Read also Article reserved for our subscribers Sexual violence in the Church: the French bishops affirm that the pope supports their decisions after the Sauvé report
One case is particularly embarrassing for Ratzinger. It dates back to 1980, when Peter Hullermann, a priest from the diocese of Essen (North Rhine-Westphalia) accused of paedophilia, was transferred to that of Munich for therapy. The future Benedict XVI has always denied having any knowledge of this priest's past. He claims in particular not to have attended the meeting which, on January 15, 1980, recorded his arrival in Munich. A version deemed "not very credible" by the authors of the report: not only do the minutes of the meeting not say that the archbishop was absent, but they indicate that the latter spoke on two other subjects during it . A few weeks after his transfer to Bavaria, Hullermann was again in contact with minors. Sentenced in 1986 to an eighteen-month suspended prison sentence, he then officiated in various parishes in the region until his final suspension in 2010 at the age of 63.
"Shock and Shame"
The impunity enjoyed by this priest long after Ratzinger's departure from the archdiocese in 1982 reminds us that the future Benedict XVI is far from the only prelate to have covered up such acts. In reality, the five archbishops who have succeeded in Munich since the end of the war are all implicated. In particular the current prelate, Reinhard Marx, in office since 2008, accused of inaction in two cases.
You have 58.02% of this article left to read. The following is for subscribers only.
---