It happened during rehearsals. A contestant from the 2019 Voice season rehearsed her performance in the studio, she was instructed to look into the lens. "Naughty," said the director. "You look so sexy."
It may be strange to say, she says now, but the director was "a really nice man". Is that why she kept her mouth shut? The cameramen laughed along, they were also very nice. "The atmosphere was: it was just a joke, don't be fooled. A joke means nothing." But what about that hand, right above her buttocks? And that time the director grabbed her hand?
Now she thinks: did it mean nothing? But why do those words and touches still weigh so heavily a few years later?
Thursday showed how a talent show can be a breeding ground for sexually transgressive behavior and abuse of power. More than fifty participants and former employees, mostly women, told the BOOS (BNNVARA) program on YouTube about how Voice employees in high positions abused them. Nineteen women talked about band leader Jeroen Rietbergen. A woman admitted to being raped by Ali B and recalled in detail how the rapper forced himself on her in his studio. Marco Borsato would also have sat with underage participants. And there were fifteen reports of sexually transgressive behavior by a Voice director, who was not mentioned by name in the broadcast. The Man Who Said "You Look Sexy"
Also read: 'For victims of The Voice, the threshold to report misconduct was too high'
Program takes precedence
Most of these stories started in the Voice studio in Hilversum, where dozens of singing careers were launched for years in front of millions of viewers. What do these incidents say about the culture behind the scenes of The Voice?
In recent days, NRC approached seventy people with this question who were involved in The Voice in all kinds of ways – most of them before the BOOS broadcast. No more than fourteen wanted to talk – on the basis of anonymity. The reasons for this differed: some former Voice employees now work for other Talpa programs, participants fear the media storm or the 'huge contracts' they signed.
First of all: in the world of Hilversum, the end result, the program, takes precedence over everything. For your well-being, for your control over your career, for who you want to be as an artist. Every program with "normal Dutch people" uses people "in a certain way", says a former Voice employee ("No name, I still work for Talpa"). But on the set of The Voice there is another dependency relationship: the candidates dream of a career as a singer. Record deals, video clips, performances, an audience. They are helped in this by people who know their way around the media world, people who have made it for a long time; the television makers who create a stage for them, the 'coaches' who provide them with advice.
You feel like a very vulnerable pawn on a board game when you participate in The Voice

Deelnemer The Voice
Many Voice participants have never been on television until their first appearance in the program. "I felt like Alice in Wonderland. Everything was new," says a woman who was underage when she took part. She only knew talent shows from television. "And suddenly I was part of it myself. You are living your dream." She immediately had personal conversations with the editors. For the program. Because even before a participant is on television, they think about their story. What is their family situation, do they have brothers and sisters? Has anyone recently lost a loved one? Participants are asked if they can talk about this on television. "Sometimes that takes pressure," says a former editor. "We did push a little bit." It arouses sympathy from the viewer if you tell this, the editors try. And do participants sometimes have known friends? Can they take it with them to the recording? "Even if it is just someone who once played in GTST."
"You feel like a very vulnerable pawn on a board game," says another former participant. Also on stage, the image of participants is largely determined by the program for them. Stylists make clothing suggestions (participants can say which artist they want to resemble), the editors decide what will happen on stage, production and coaches handle the songs. Not everyone can sing Adele, it is said. And if a participant doesn't like the clothes, the production sometimes says: just put it on. Their career after The Voice is therefore already largely fixed. At the start of the program, participants signed up for this with record company 8Ball, co-founded by John de Mol. For the duration of at least a year and a half or the first three singles they release after the program.
The influence of the editors was felt in many ways. "The program is dependent on each other," says a former employee. "Whoever wants to win must be able to sing, but also needs a good factor." A former employee says: "People who liked it also received better guidance, that's just how it went." The woman who was underage when she participated in The Voice: "I called my mother crying. I had to wear something I didn't want to wear. But how was I going to bring that up? It feels like everything you do can affect your position in the program."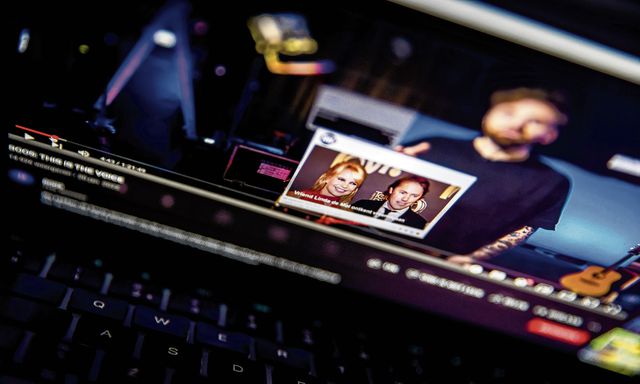 Also read this analysis: BOOS broadcast shows the change of power in media land
Create success very quickly
The further the season progresses, the longer the shooting days will be. A season lasts about twenty weeks. Around the live shows, the last part of The Voice, participants sometimes make fifteen-hour days. "You get removed from the real world, from the people around you," says the 2019 participant. There is no time for friends anymore, they do get to know more and more people through the program. Other participants, employees. Fitting, rehearsing, recordings during days full of clothes. Being part of The Voice, candidates and former employees still say, was also a lot of fun. "It's like living in a video clip for a while," says a former employee. "Everything is aimed at creating success very quickly. And that's how it feels. This is your chance." But rumors of abuse, says a 2016 contestant, "hanged like bad perfume in the hallways on The Voice."
'Later he asked for pictures'
Jeroen [Rietbergen] asked for my number, said a woman in ANGRY. "At first he just texted business about the program. Later he asked for pictures. He said, 'I'm in this hotel, come over.'"
Another woman was called by Ali B after she lost weight on the program, she told BOOS. He said he was sorry she was out, that they had to go back into the studio together. Later she gets another message. Is she home? "I thought that was a bit strange, but I thought: fine. And then suddenly he was there. (…) And then suddenly in a split second he said, "I feel like fucking you."
Why didn't the stories come out sooner? Because they were afraid, the women say, blamed themselves for long thinking it was normal. She knew after that night with Ali B that there were more women like her, the woman told BOOS. "He told me then, that he often did that," she said. "But I never found those girls and on your own against someone who has so much money, has so much power, to file a report and have no further proof of what happened… that's a really big step." In addition, many participants had signed a contract of silence. It states that they risk a fine if they talk to others about what happened at the program. In a 2011 contract, there is an "immediately payable fine" of 25,000 euros for disclosing what "has come to his/her knowledge" during the participation. That contract is in the hands of NRC.
Also read this profile: 'Model citizen' Ali B falls from pedestal after BOOS broadcast
'ring the bell'
John de Mol told BOOS that there were "all possibilities" at The Voice to "raise the alarm" and noted that "all those counters and measures have not had the desired effect". The participants were always 'candidate counselors', he said, 'predominantly women'.
Yes, guidance was part of my duties, two former Voice employees told NRC. They were closely involved with the candidates. But: in the hierarchy "I dangled at the bottom," says one of them. The other also worked for the program for a relatively short time. The director, Jeroen Rietbergen and Ali B have been there for years. "I wasn't even allowed to talk to the coaches," says one of the supervisors. They both recognized the inappropriate comments. One: "I didn't know it was also said to candidates." The other: "I also didn't feel comfortable if something crazy was said to a female candidate or employee." They say the sexual abuse took place out of their sight.
"You can say: why are you only opening your mouth now," says the participant from 2016. "But now comments are finally no longer dismissed as an innocent joke. I am not alone. A lot of women have been the victims."
Comments
The Voice-Producent ITV says in a response that it wants to wait for the external investigation that has been initiated before responding. In a statement, the company said it was "shocked and stunned".
Jeroen Rietbergen He previously announced through his lawyer that he did not want to respond for the time being. He refers to an earlier statement of Saturday, January 15.
The director informs through his lawyer that he is "shocked by the reports surrounding The Voice" and the accusations "made against him in the media". He doesn't recognize himself in it. Because he is not a public figure, NRC does not mention his name in this story.
RTL was unavailable for comment prior to publication of this article.
A version of this article also appeared in NRC Handelsblad on January 22, 2022 A version of this article also appeared in NRC in the morning of January 22, 2022
---