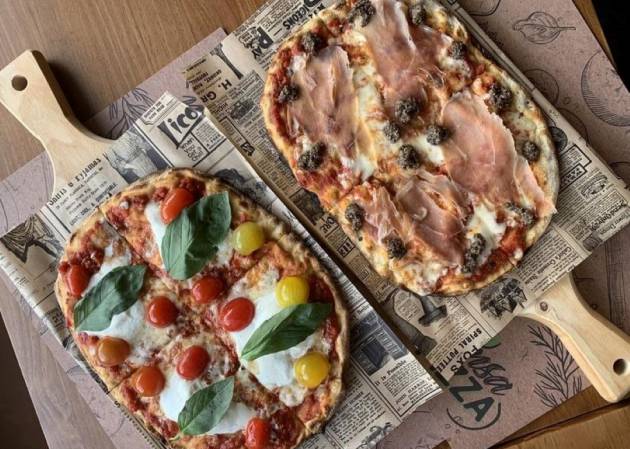 You stopped ordering from Telepizza a long time ago, you disdain barbecue pizza and distinguish between Neapolitan and Roman pizza. You thought you had the issue under control, but surprise! The pinsa has arrived. You may have seen it on a letter or even come across a pin shop. But what exactly are we talking about? In a few words, the pinsa is a development of the pizza al taglio -"al corte", which is baked in a mold and is intended more for eating on the street- and the pizza alla pala (which is also sometimes found in ovens for bring).
At first glance it also looks like a pizza, although the shape is a bit different: instead of being round like a traditional Neapolitan pizza, it is oval. When eating it, you notice a particular texture, but is this enough to give it another name? I call Nicola Morganti from Nico's Pinsa in Ourense, to ask him what the matter is about. Morganti is Italian-Galician -a bit like me-, and for more than three years he has been baking pinsa bases in Cea, in a stone oven where Galician bread has been baked for decades.
"The pinsa differs from the pizza essentially in the formulation and in the fermentation" he tells me. "Pizza is usually made with highly refined wheat flour and fermentation rarely reaches 48 hours. In the case of the pinsa, a mixture of wheat, soy and rice flour is used, and the fermentation is 72 hours". Indeed, a long fermentation is usually associated with a more digestible product; Regarding the flours, Morganti explains to me that rice flour in particular allows the dough to be more hydrated, and this in turn is more crispy.
Soy and rice are not traditional in Italian cuisine, so it is time to talk a little about the history of this product, which was born in Rome in 2001 from the mind of Corrado Di Marco, a clever flour businessman. In 1991 his company, specializing in pizza preparations, launched Pizzasnella, a mix of wheat and soy that revolutionized the world of sliced ​​pizza, an institution of Roman street food. The next step, which is what interests us here, comes ten years later with the creation of the Pinsa mix, an evolution of Pizzasnella with the addition of rice flour, which gives, as we have seen, that particular texture.
Di Marco's masterful move comes when he decides to give his new preparation a good marketing push. Mixing family and ancient Roman anecdotes, stories about this mysterious pinsa, which supposedly was born before Neapolitan pizza, begin to circulate on the internet. When I talk about this with Simone Basile from Pinsería Il Grano (Santa Pola, Alicante) she laughs. "But it is better not to talk about that, anyone who knows how to reason realizes that a dough with soy flour and rice has nothing to do with ancient Rome!" Basile defends, on the contrary, the innovation that the pinsa represents. "Tradition does not mean standing still: cuisine continues to evolve, and this also applies to pizza." He talks to me about research with wholemeal flours, new (old) cereals, health and digestibility, a very important characteristic for Italians.
For the pinsa it is not necessary to have a dome oven, as for the Neapolitan pizza. In fact, it is a type of dough more similar to pizza al taglio, which is traditionally prepared in an electric oven at a lower temperature, above 300 °C. This makes it a much easier product to handle for a local, and in fact most of the pinsas are made in central workshops to be later distributed to restaurants. Basile himself, in addition to preparing his own bases, sells them to selected stores, where he knows "that they will take care of them and give them the value they deserve."
These bases are usually precooked -the technical term is "scalded in the oven"-: double cooking is one of the characteristics of the pinsa. Even in the pinsería where they are made, first the base is baked alone for a few minutes and then it is baked again with the toppings (it admits -and they usually put the same ones: cheeses, sausages, raw or cooked vegetables, anchovies, etc). This is why the bases for home are very successful, because the result is always better than that of a Neapolitan pizza base, more delicate and which requires unattainable temperatures in a domestic oven.
There are so many advantages that there are those who went to Italy to train to open a pizzeria and returned to Madrid changing the "zz" for the "ns". This is the case of Jorge Delgado, one of the founders of PinsaPizza, who in 2016 discovered La Pratolina in Rome, one of the classic places for authentic Roman pinsa. "We were surprised by the texture and we realized that it was something that could work well in Madrid."
Although at PinsaPizza the dough arrives already prepared from a central kitchen, they give it their particular touch by stretching it a little more. They take care of the ingredients, "in particular the cured meats". "We are in love with the Italians and we always try to introduce some lesser known ones like the coppa, the 'nduja or the Italian salsiccia". They use high quality prosciutto cotto and that is why they usually add it to the pinsa once it has come out of the oven. "But a lot of customers didn't get it and asked us to put it back in the oven."
At this point, we are clear that the pinsa dough is crunchier and that it is more likely that we will find it in the premises due to the ease of baking it for the cook. But is this enough to explain its success? All the pinseros with whom I have spoken have told me the same thing: the pinsa is perfect for sharing: perhaps it is precisely this very Spanish characteristic that makes it so attractive.
Fabio Gasparini, chef and owner of the bacaro, gives me the funniest explanation. "The Neapolitan pizza is very good, but to enjoy it to the fullest you have to go to the restaurant and not talk. The Neapolitans first eat the pizza and then they talk". If you have ordered a Neapolitan pizza at home, you will know why: that wonderful dough is perfect while it is hot, but if you leave it too long it becomes rubbery, while the pinsa that stays crispy for longer: "My customers ordered and started talking , and when the pizza arrived at the table they kept talking and I saw how the dough cooled and spoiled. In addition, a Neapolitan pizza is not usually shared, it is more difficult to cut, and the pinsa is the solution to all this".
Light, digestible, innovative and easy: after all this it is clear that pinsa is here to stay (in our stomachs). The Italians have -have we?- managed to give us one more reason to have regrets: the pizza al taglio for when we want a quick snack, the round pizza -Neapolitan or Roman- when we are ready to eat before talking, and the pinsa to share without worrying about the time that passes. And to drink, meatballs!
where to eat it
Leotta House: Calle Juan Ajuriaguerra Kalea, 14, Bilbao. Tel: 944716600. Map.
Fabio's Baccaro. Calle de Hartzenbusch, 9, Madrid. Tel: 914454668. Map.
Gustazio: Ambassadors, 197, Madrid. Phone: 912302298. Map.
La Pinseria de San Roque. In front of the Police station, P.º Ezequiel González, 35, Segovia. Tel: 600230668. Map.
The Romanesque: Rúa Galera, 40, A Coruña. Tel: 618460259. Map.
Tuscany from Irene: José Rodríguez Ruano Avenue, 53, Almansa, Albacete. Tel: 967016446. Map.
Magnaroma: Carrer de Còrsega, 47, Barcelona. Tel: 931709828. Map.
Pinsa Pizza. Maria de Molina Street, 10, Madrid. Phone: +34915946723. Map.
Pinseria Il Grano: Valencia Avenue, 12, Santa Pola, Alicante. Phone: 965509670. Map.
Trattoria Pinsa Madre: San Fernando Avenue, 29, Rota, Cadiz. Tel: 856529740. Map. Pinsería Ocho (1907): Plaça Major, 9. Pollença, Mallorca. Tel: 971531598. Map.
.
---