Back in November, creator Hwang Dong-hyuk announced a second season of Squid Game (2021). However, no official confirmation from Netflix has been forthcoming. Until now: Netflix boss Ted Sarandos confirms the continuation of the South Korean success. "The Squid Game universe is just getting started," he says.
Sarandos made this statement during the disclosures of the streaming service's fourth-quarter earnings. It seemed inevitable that after the worldwide success of Squid Game there would be something of a sequel. However, Netflix always has to get an official green light first. Fortunately that has now happened.
Squid Game, the gory series about people in debt who participate in a deadly game to win a big cash pot, reached more than 142 million households and has been watched for more than 1.6 billion hours. According to Sarandos, this is entirely due to the South Korean film and series market itself.
They didn't try to make the series different so that it would travel around the world, but tried to find all things about Korean cinema and Korean drama and build them in a way and new levels of production values. It's not like we had to go in and teach someone in Korea how to make great content. It's an incredible market for that.

Netflix-baas Ted Sarandos
In addition to a second season, creator Hwang Dong-hyuk also hinted at a third season. Whether that will come, and what exactly Sarandos means by a Squid Game universe, is not yet known. The streaming service announced at least 25 new South Korean titles this week. According to Sarandos, this is partly due to the success of Parasite (2019), which was a tipping point for South Korean content.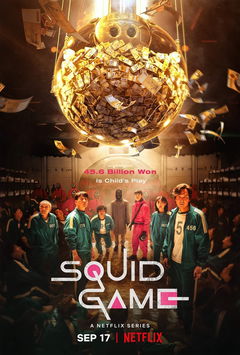 8.0 Watch on Netflix • 456 participants risk their lives to win 45.6 billion in the prize pool. Whoever fails, dies.
Beeld: Still 'Squid Game' via Netflix / Noh Juhan
.
---