One of his most popular songs is called Living in the Past (Living in the past) and they were already thinking in the past tense even to name the debut album, This Was (This was from 1968). But Jethro Tull is reluctant to disappear after 54 years in business. At least with regard to Ian Anderson, leader and only original member who remains in the band, out of a total of 36 musicians, according to the singer's own calculations in the interview that Jethro Tull has shared on YouTube to present his latest work, The Zealot Gene (Inside Out Music), which is released on January 28. Only his name, in fact, repeats in the credits even if we go to the last publication of the group, the Christmas one The Jethro Tull Christmas Album (2003): the current members of the band are basically the same ones that Ian Anderson has relied on to make his latest albums and solo tours.
"I have always been certain that Jethro Tull is Ian Anderson. In his glorious years of the seventies, the contribution of the musicians who accompanied him was very important, but from 1980 the Jethro Tull motto was diluted in the Ian Anderson project. It matters little who signs the records," Vicente Álvarez, author of the biography, tells ICON. Jethro Tull and the Aqualung Lighthouse (Quarantine Editions, 2012). There was a near dissolution in 2011, which, above all, marked the end of the long partnership between the Scottish artist and guitarist Martin Barre (present in the band since the second album). Since then, Anderson has released under his personal label two sequels to one of the band's flagship albums, Thick as a brick (1972) –Thick as a Brick 2 (2012) and Homo Erraticus (2014)-, and touring under ambiguous names such as Ian Anderson Presents Jethro Tull or, directly, Ian Anderson's Jethro Tull. But in The Zealot Gene has returned to the usual name.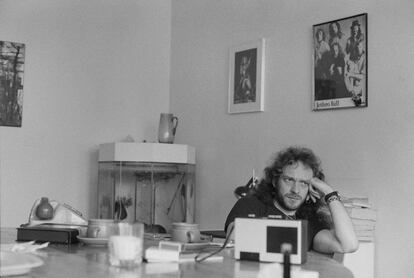 Jethro Tull's Ian Anderson poses thoughtfully in London in 1976. Michael Putland (Getty Images)
The justification given by the singer and flutist is that it is "a band album, on the progressive side of rock" (the dense subgenre of symphonic influences that gave birth to bands like Pink Floyd, Yes, King Crimson or Genesis), in addition to a way of acknowledging the work of the formation that has accompanied him in this last stage, the most stable and longest of his career. However, one of those who has recorded the still unreleased album, guitarist Florian Opahle, has already joined the list of former members. The Zealot Gene, which ICON has been able to listen to for the first time, does not offer any great surprises for those who have followed Anderson's evolution and are, therefore, aware of the limitations that he has been dragging for some time due to his throat problems, something that inevitably takes its toll on the melodies. With lyrics sprinkled with cryptic religious imagery, Opahle's forceful guitar brings character to the set and even hard rock hits. On the other hand, songs like the one that gives the album its title, an ode to centrism and political moderation (an idea not very subtly represented on the cover, a polarized black and white with Anderson's gray face, of course, in the middle) , can be bland if one thinks of the provocative temper of Aqualung (1971), an album that was censored in Spain by the Franco dictatorship, or Minstrel in the Gallery (1975).
But the album has plenty of quality and can hardly be considered a stain on the already irregular trajectory of one of the biggest names in rock history. "Jethro Tull is an unclassifiable band. Anderson has not stopped evolving, experimenting and playing all styles, from the hard rock to folk, passing through jazz, blues or classical music", says the writer Vicente Álvarez. After his controversial foray into electronic music in the eighties, which alienated a good part of his admirers, the leader of the group seems to have always acted knowing that nothing could lower the weight and importance of his great albums, including a Thick as a Brick which Álvarez considers the equivalent of Don Quixote in progressive rock: "Ian Anderson wrote it to make fun of conceptual albums, like Cervantes with chivalric novels. An album with only one song [de casi 44 minutos] whose letter a child has written [ficticio] eight years old, a single folder [que imita el formato de un periódico]… If there is a differential and pioneering album, it is this one".
Jethro Tull posing in Amsterdam in 1972. The band then consisted of (from left to right) John Evan, Ian Anderson, Barrie Barlow, Martin Barre and Jeffrey Hammond. Gijsbert Hanekroot (Redferns)
The man who combined his music with a lucrative business of 43 salmon farms, whose position playing the flute on one leg has the status of a symbol in popular culture (although it started as an accident at a concert to hold a microphone stand) , will perform with Jethro Tull in Spain up to four times throughout 2022: in March, in Madrid and Cartagena, and in June, in Seville and Barcelona. Perhaps before an audience that, in part, had not even been born when his period of greatest fame unfolded, embodying in himself the joke that Paul Desmond, saxophonist whose imperishable Take Five inspired Living in the Past, formulated one day: "I had already gone out of style before anyone knew me".
Ian Anderson, Gavà. Gavà, Ian Anderson
The story of Albert Villanueva, writer and teacher of Secondary Education in the Barcelona city of Gavà, with less than 50,000 inhabitants, could recall that of Juan Carrión, the also teacher whose meeting with John Lennon was narrated in the film Living is easy with closed eyes (2013), if it weren't for the fact that the members of the Beatles never went to give concerts in Almería strictly for Carrión and his friends. Villanueva is the president of Tullianos, an association of Jethro Tull supporters founded in 1998, from which they have managed to establish a personal relationship with Anderson and turn Gavà into a key geographical point for the band: in 2019, the small municipality was one of the few European cities chosen by the singer to celebrate a special meeting for the band's 50th anniversary, with a round of questions and an acoustic concert. The other enclaves were London, Rome and Berlin.
Last meeting of the Tullianos fan club with Ian Anderson in Christmas 2021. In the middle of the group is Albert Villanueva, the president of the club, and at his side Ian Anderson holding a plaque that names him an honorary member.Josep M Llovera (Josep MLlovera)
"Someone told me when I was 18 years old and I think he's crazy," Villanueva tells ICON. This past Christmas, Anderson returned to the city not to perform -since, as a result of Brexit, he now needs a special visa at concerts-, but to present a raffle that included, among signed t-shirts and vinyl, one of his original flutes . The legendary Scottish musician, who came to play for free for Tullianos for the first time in 2011, seems to feel a kind of Stockholm syndrome with Gavà, according to what the president of the association tells Anderson told him after the recent Christmas meeting, after ask him if he had had a good time: "Having a good time is not the correct expression. It's just that I don't enjoy these things, I don't like them because I'm very shy and I have a hard time. I try to show that I am a nice person, but I am not a nice person."
"I think he's getting old and he's softening," the professor considers about his renewed affable and helpful character, compared to the decades of well-known antipathy and rudeness that the character carries on his back. Around thirty of the 36 historic members of Jethro Tull have passed through the conventions of the Gavà supporters association, according to its president. Anderson resisted at first, although, according to Villanueva, "the tortilla changed sides" when Tullianos decided to invite his son, also a musician James Duncan, to an edition: "We thought: 'Let the child see what we do and that some Sunday eating, perhaps, his father will ask him what's going on with those Spanish freaks and speak well of us'. The kid came, saw that we were normal people, that nobody harassed him and he had fun. I think that was the key," he says.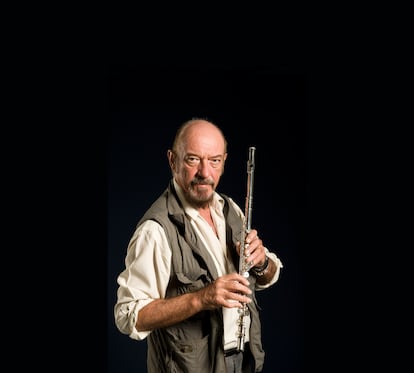 Ian Anderson during a concert in London in July 2013. Prog Magazine (Future via Getty Images)
Thus, the years of unanswered emails are behind us. "It's amazing, now I send a message to Anderson at six in the morning, when I get up to work, and at eight he has already answered me," says Villanueva. The nexus function that Tullianos performs between members of Jethro Tull from all times has created, according to the Catalan teacher, daily situations that were previously unimaginable for him, such as Anderson contacting him to ask for the phone number of his original drummer, Clive Bunker. On the Auditori Marc Grau de Gavà, an open space where the public (member or not of the association) access without paying, the affections and disagreements between former members of the band have also been staged. "There are people who have spoken highly of Anderson, such as Dee Palmer or Maartin Allcock. Martin Barre [que ha acudido a tres convenciones] He is one of those who left Jethro Tull with resentment, so you took out his name and he wrinkled his nose," says Villanueva, who remembers the former guitarist exclaiming "Ah, flute, I can't stand that sound!", referring to the leader's instrument , while a tribute band performed.
Tullianos was born as a result of Villanueva creating the first website in Spanish of the group, after having spent his time as a student feeling "the weirdo" for liking Jethro Tull. From then on, the association organized excursions to the band's concerts and, through its relationship with the Italian fan club (Itullians), they got the first contacts from ex-members to invite them to their conventions. Currently, the president believes that there is no other fan association in the world that has such a close relationship with Anderson and the rest of the musicians: "The luck is that we all have an age. They have seen that people are calm, sitting down and can have a beer at ease because it is a very familiar thing. Anyone who comes usually ends up repeating because they have a good time". With 17 conventions behind him, the professor and writer is still on the lookout for the few members of the band that remain to attend: "For this summer I have contacted Peter Vettese. I don't know if people will kick him out because he's the most hated member, he was the keyboard player in the electronic age!"
The teacher takes Anderson's last artistic stage philosophically: "I am now 59 years old and I am not the same person as when I heard Aqualung, nor is Anderson the same person as when he wrote it. We all evolve. Besides, he is 74 years old and he continues to give us things, he could have retired, but he has given us a lot of extra albums and concerts". Recently, in a class he taught for 4th ESO, Villanueva commissioned his students to prepare an oral presentation and, as an example, he showed them a Power Point which he had titled Jethro Tull and me. "On the last slide, I explained that my exhibition was not for them to meet Jethro Tull, but for them to discover that, in the end, if you put interest and effort, dreams often end up coming true."
You can follow ICON at Facebook, Twitter, Instagram, or subscribe here to the Newsletter.
---