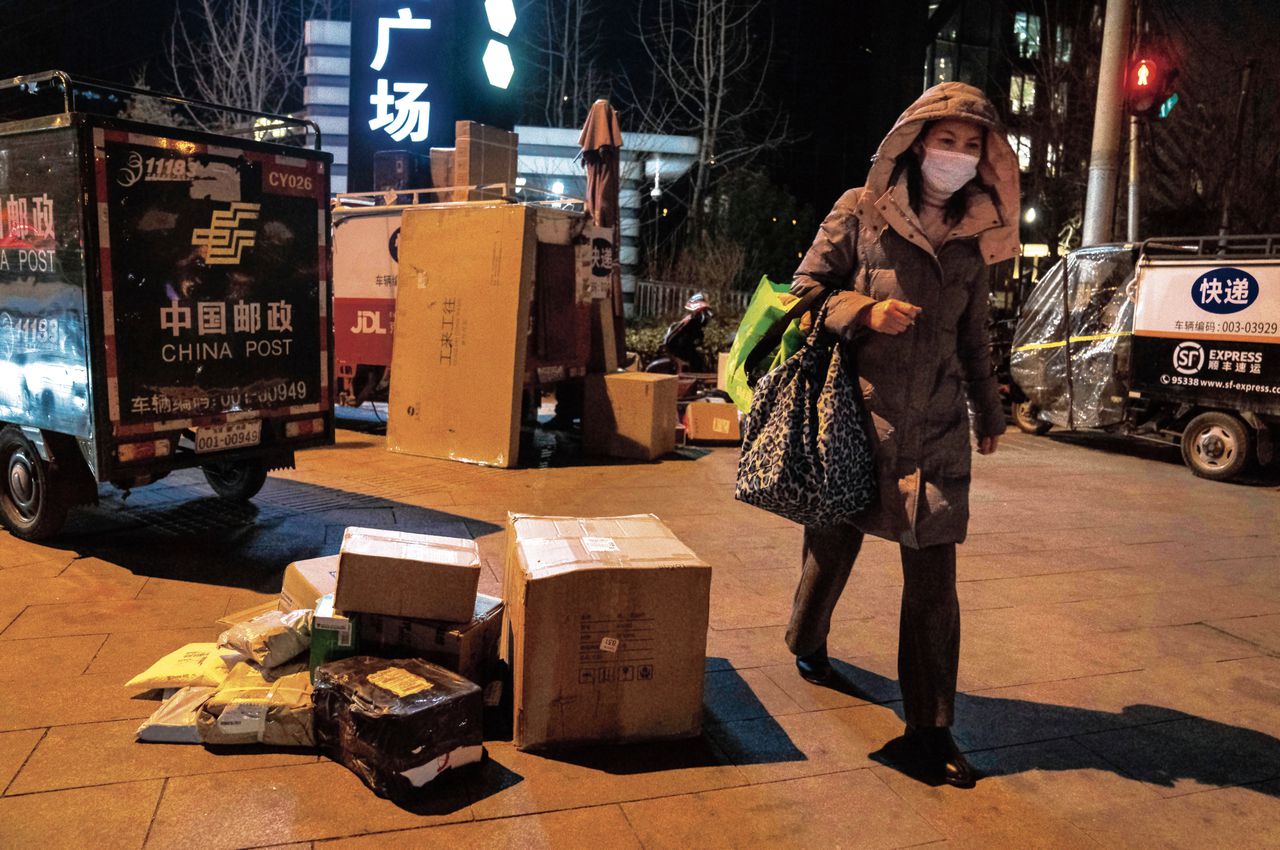 It's snowing, the white flakes stand out sharply against the guard's black fur hat. "Do I believe that you can become infected with corona if you touch postal packages from abroad?" He smiles. "Naturally. That's not a matter of belief, is it?" He has no doubts. "Isn't it only revealed by the authorities' investigation?"
The guard, dressed in a wool winter coat with gold buttons, stands at the entrance gate of a block of luxury apartments in central Beijing. He does not mention his name because he thinks it is risky to talk to a journalist.
It was a shock when the government had to announce on Saturday that a corona infection with the Omikron variant had also been found in Beijing. And, most disturbingly, the infected woman had not left the city. Who had infected her? Did this mean that the disease had already spread through the city undetected?
Not long after, Chinese media released a statement: the woman was said to have "possibly" or "probably" fallen ill from touching an express mail item from Canada. Traces of 'Omikron' had been found on the package, of a slightly different variant than the type that is already roaming around in other Chinese cities. That was still disturbing, but less serious than the disease spreading unnoticed and uncontrollably.
Pang Xinghuo, deputy director of the Beijing Public Health Bureau, warned the population immediately to stop ordering things from abroad during the pandemic. And if you do receive a package like this: "Make sure you wear gloves, don't take the package inside. Please wipe the package outside with alcohol and wash your hands."
Very controversial assumption
The assumption that people can become infected through postal items is highly controversial internationally. Experts don't want to rule it out one hundred percent, but they consider the chance to be virtually nil. Australian virologist Ian Mackay says in The Guardian that infection via humans is much, much more likely.
"The virus spreads through the air, it's not about surfaces," he says. "When you wonder how a virus enters a state, the first thing that comes to mind is people coming in from abroad — where the virus is everywhere."
Mr. Lu, also a security guard at the apartment block, is not afraid that contaminated packages from abroad will come through his entrance gate. "We have a very competent government. He has probably already taken measures to prevent that."
He holds up three fingers of his black-gloved hand. "You can get corona in three ways," he explains. "Via people from abroad, via frozen products from abroad and via packages from abroad," he knows. "Unfortunately, other countries are far from having the corona crisis under control. That is why we have to be extra vigilant in China," he says. "But China can handle this crisis. I have every confidence in that," he says.
He himself contributes to it. "I always stand here at the gate with a mask on, summer and winter, for almost two years now," says Lu. "I do that for my country and for the people in these buildings. Only if the entire population and the government stand together can we stop the disease."
Not everyone in China believes that you can get corona from foreign packages. Mrs. Ma, a petite woman with short hair, lives in the apartment complex. She pulls a blue cover over her backpack to protect it from the snow. Does she believe the story about the packages? She remains silent for a moment. "In any case, it is what they say," she says diplomatically.
But Jiang Chu, head of the Health Bureau in the Haidian district, assumes that the infected woman contracted the virus through the package, he says in the Party newspaper. Global Times. According to Jiang, we can deduce from this that the virus can survive much longer outside the body than previously thought, and that people should therefore be even more careful.
Foreign scientists agree that the virus dies much faster outside the body. The package was in transit for eight days and reached Beijing via the US and Hong Kong.
But China lives in a different reality. Ms. Lu, who works at the post office down the road, also believes that packages from abroad can transmit the disease. "If you still want to have something sent from abroad, pack it well in plastic," is her advice. "We thoroughly disinfect it here with alcohol before it is delivered."
Yellow Health Code
Coming from the southern China province of Guangdong messages that people who have received – or are yet to receive parcels from abroad – receive a yellow 'health code'. Everyone has this traffic light system in an app on their phone and determines the degree of freedom of movement. People with a yellow code are no longer allowed to enter a shop, bus or restaurant. Only after three negative tests in seven days does the code turn green again.
Such messages spread quickly. There is a good chance that hardly anyone will dare to order a package from abroad. Even those who are not afraid of the virus will probably be held back by fear of a yellow code.
Newsletter NRC Today
Every morning an overview of our best pieces and all the important other news
A version of this article also appeared in NRC Handelsblad on 21 January 2022 A version of this article also appeared in NRC in the morning of 21 January 2022
---