'O wye en droewe land, alone / Under that great suidersterre, / Will never 'n hoë blydskap come / Through your silent sorrow?', wrote the South African poet NP van Wyk Louw in 1938. He wrote these lines that have become famous. the eve of the centenary of the Battle of the Blood River, when it was celebrated that the white Afrikaners – then called the Voortrekkers – had won the battle with the Zulus. In laments, prayers and pleas, Van Wyk Louw takes stock of the deeds and the formation of the country, while lessons must be drawn from the past. That balance tipped in favor of the Voortrekkers.
It doesn't look like there will be any reason for these kinds of laments and prayers in favor of the Voortrekkers in 2038, but the lines of poetry about silent grief still apply. Because how long does a country's silent grief actually last, and where is the line between accountability and testimony?
These are questions that arise from two recently published non-fiction books about South Africa: To bring back the heart by Annemarié van Niekerk and De courier van Maputo by Jenne Jan Holtland. In both, the main characters return to South Africa to discover how formative the country has been for them, and to explore the role violence has played. Van Niekerk does this in a memoir about her own history that is triggered when a former friend becomes the victim of a local murder, a 'farm murder' and she returns from the Netherlands to South Africa. Holtland wrote the history of Klaas de Jonge, the Dutchman who was arrested in South Africa in 1985 for smuggling weapons for the ANC.
One is an insider, a woman who grew up in a prosperous Afrikaner family, who was brought up with the idea that God had made a distinction between white and black people for a reason. The other is an outsider who has been asked to help end the apartheid regime. The two books are excellent to read side by side. Van Niekerk (1962) was brought up with the idea that evil, communist, barbarian forces are advancing and that there is only one thing to do and that is – besides sending the army to the townships – asking the Lord to protect the white Afrikaners 'as it was then' the Voortrekkers during the Battle of Blood River'. Klaas de Jonge (1937) develops a sense of independence early on and as a student is strongly opposed to any form of colonialism, of which the apartheid regime is an outgrowth.
Court of law
'Be careful, judges / For the judgment / Of my small business / Is preserved / In prints, books / And an old armchair of my own; // Carry carefully, gods, / Because the porcelain of the heart / Is brittle and prone to much pain / And vulnerability / The crates of a life / Break oh so easy', Van Niekerk quotes the poet Ernst van Heerden. He is one of the many writers she cites in her memoir, as literature is important in her awareness of finding her place in South Africa. Now that the balance is being drawn, it is the judges and the gods who must pass judgment on the behavior of individuals who went for their ideals or who lacked ideals.
Anyone who wants to see this literary-legal judgment both passed and problematized is in luck in South African literature, with Nobel laureate JM Coetzee as frontrunner, who clearly shows in his work that no one can escape the court of history. South Africa is pre-eminently the country whose history of the state and its inhabitants parallels that of violence. "Show me a barbarian army and I will believe them," Coetzee wrote in Waiting for the barbarians. In that same book, the main character has the thought 'We have no enemies. Unless we are the enemy'.
It is not for nothing that Van Niekerk gives her memories the subtitle Love and violence in South Africa. In a wide-ranging history, she tells about her own abusive father, the boys who are forced to join the army to fight in present-day Namibia, causing them to grow up too early (or die prematurely), the years of abusive relationship she has with her black friend Denzel who has been brought up again with the violence of a government and state police.
South Africa literally rammed into anyone who dared to doubt the country. And violence breeds violence. At Van Niekerk you can see how that piles up from generation to generation. And if someone does seem non-violent, like her friend Ruben, who wants to contribute to the new South Africa as a teacher at a black school, it doesn't end well either. He dies horribly in a farm murder.
It is strong how Van Niekerk also places this story in a larger context, but the personal perspective now provides a very specific spotlight. It is understandable that Van Niekerk goes into detail about the farm murder – after all, this concerns a friend of hers who is strangled together with his mother – but it also reads as a choice to put so much emphasis on this. The farm murders are a horrific phenomenon, and it is obvious to everyone because of the details that invariably make the news, but Van Niekerk runs the risk of telling a story in which violence against white farmers takes the upper hand. The question is whether that is the right choice.
This does not alter the fact that there are many beautiful passages in the personal To bring the heart back, in which Van Niekerk develops from a girl who does not dare to sleep in a bed where black people have slept to a leading literary scholar who focuses on women's literature. of the African continent. Beautiful, for example, is a dream she has in which she will stand before a judge. She has to answer for her own responsibility and guilt, as well as that of her ancestors. 'It's complicated. Where do I begin? At: "I am South African?" "I am African." The product is not the sum of its parts.' When the judge wants to know if she is a sinful person, she immediately pleads guilty: 'Get rid of me. Crush me under your heel' The judge ruled that it was too easy: 'You must make a statement, say who and what you are, expose your true nature'. And that is exactly what van Niekerk does in her book.
Church Street
How different it is for Klaas de Jonge as Maputo's courier. He likes to look back, but mainly in the form of a roguish story, in which the journalist Holtland also elaborates on how complicated it is to uncover the truth of De Jonge's past. Together they go back to South Africa, again driving one of the trips that De Jonge made when he hid weapons for the armed wing of the ANC in the hope of refreshing his memory. Holtland also speaks to many people involved from that time.
Aimabel tells De Jonge about his youth, student life and independence. While Holtland still wonders whether the end justifies the means – the civilian deaths that occurred during actions – De Jonge emphasizes that you have to live with the consequences of your choices. If you've made your choice for a good cause, there's little point in looking the horse in the ass.
Holtland portrays the history of the ANC's choices in the 1970s and 1980s well and he can tell: the story of an attack in Pretoria is written strongly and effectively, as is the part about De Jonge's arrest and chance to go to the Dutch embassy, ​​but his book fans out too much more than with Van Niekerk. He sometimes repeats himself, you read what they order at the Chinese or Egyptian snack bar or about an unnecessary visit to De Jonge's demented sister and entire passages about Sartre, Fanon, Camus and Levinas, among others. You understand the connection, but those documents contain too few new insights. It becomes more interesting when Holtland finds out the truth about De Jonge's involvement and investigates what his legacy ultimately is – De Jonge's role is historically weighed here.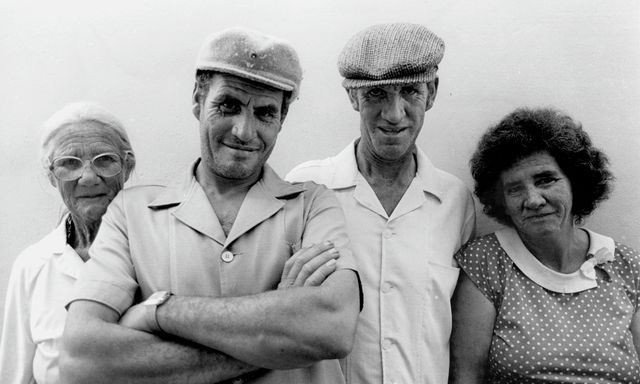 Also read: You read beautifully-poignant family scenes in the Booker Prize-winning novel (●●●●●)
A striking moment in that weighing is when Holtland suspects that he is the only one who knows of De Jonge's involvement in an attack in 1983 on a military base on Kerkstraat in Pretoria, in which several civilians were killed. 'As far as I knew, I was the first journalist in the Netherlands to whom Klaas had confirmed his involvement', he writes. If he already wants to publish about it in newspapers or magazines, he gets zero on the bill. 'They wrote that no one knew who Klaas de Jonge was yet. I couldn't blame them.' Meanwhile, De Jonge gives an interview to a journalist from the university magazine Mare and talks about his involvement in the attack. "A piece came, online and on paper, and then nothing. No push messages, no 101 on Teletext. Stone is thrown into pond, pond does not ripple'. Only on Wikipedia is the entry Klaas de Jonge adapted on the basis of the Mare interview: where it used to be stated that De Jonge had been a human rights activist, 'terrorist' is now added. At the same time, the idea of ​​involvement is undone.
With Holtland too, it's about the question of how the court of history judges you. Maputo's courier shows a man in many masks, but one who looks back largely without remorse. The judge in Van Niekerk's dream would therefore not stand a chance with De Jonge. Is that because he is an outsider or because he was on the right side of history? These are questions that Holtland plays with interestingly, while in the meantime he takes De Jonge out of the obscurity of history, after which 'a judge' can judge.
If it comes to that, De Jonge will be asked, just like Van Niekerk, how he contributed to how the country has become. Would you do well to bring up or bury the past? Have you crushed history or lent a hand in the right direction? In the words of Van Niekerk: it is confusing 'to know how a South African, or an Afrikaner, works, how he became what he is and how he contributed to what has become of this beautiful and sad country'.
Annemarié van Niekerk: To bring back the heart. Love and violence in South Africa. A memoir. Atlas Contact 460 pages € 24.99
●●●●●
Jenne Jan Holtland: The courier from Maputo. A Dutchman in the South African Revolution. Stage, 416 pages. € 25,-
●●●●●
Newsletter NRC Books
The latest book news with our reviews, the most interesting articles and interviews
A version of this article also appeared in NRC on the morning of January 21, 2022
---