In a modest page, a format little appreciated today, Federico García Lorca explained to the world what his two favorite meanings were. The poet did not resort to the text for this, and yet he did not cease to be a poet at that time as well. In a faint ink drawing, eight hands and one eye allowed Federico to make his preferences clear: sight and touch take precedence over the other senses. sight and touch is the title of that little work, 25 by 20 centimeters, and now, a little more than 90 years later, the name of the exhibition shown at the Federico Garcia Lorca Center of Granada and that can be visited until February 13.
The sample sight and touch [ca. 1929-30] places that small drawing at the center of his plot, to surround it with 140 pieces both from the poet's own legacy and current ones around that two meanings. The exhibition also serves, as its curator, Francisco Ramallo, explains, to show numerous works from the author's legacy that have not come to light for a long time. After a year of searching and reviewing the legacy, Ramallo has selected "everything related to sight and touch that is in the archive", which includes drawings by Lorca or his friends, and texts, whether they are letters written or received by him, magazines, poems, essays or conferences.
For Laura García Lorca, president of the Federico García Lorca Foundation, this exhibition "brings together fundamental questions within the aims of our project. One of them, in addition to showing the thousands of documents that make up the archive, is to develop new visions of the poet's work, and in turn suggest new ideas in contemporary creators. In this case, based on a drawing and an idea by Lorca, links are established with artists from all periods and it has allowed us to invite our contemporaries to create new works based on the poet's ideas. Drawing, sculpture, painting, theory, literature, performance, video allow us to offer multiple visions of the senses that the central drawing of the project names", he concludes.
The cantaor Niño de Elche, who participates in the 'performances' linked to the exhibition 'The view and the touch'.Fermin Rodriguez
With this material, Ramallo has designed, as a starting point, the "atlas" of Lorca's sight and touch. It is the first section of the exhibition, which gathers, with material from Lorca's legacy, the choreography traced by looks and hands, moments with which Ramallo draws a map of the poet's life in moments related to these two senses: photos in which Lorca's traveling companions grasp and touch, a 1914 image of the poet embracing his sister while she reviews a score… Among the texts, a letter from the poet to his parents and siblings from New York, dated 1929, stage in which he drew sight and touch, in which Lorca explains to his family that "my room and this place", the room at Columbia University where he is staying, "is a kind of orchard", a peculiar look at that New York habitat.
From this atlas, which functions as a prelude to the show, Ramallo has put together eight sections, in which he has brought together some forty pieces from the Reina Sofía National Art Center Museum, as well as from different archives, galleries and private collections. These works, of which two have been created expressly for this exhibition, join the hundred in the center of Granada, to end up forming a walk through sight and touch from the point of view of García Lorca and his and our contemporaries, such as Rafael Barradas, Salvador Dalí, Joan Miró, José Val del Omar, Benjamín Palencia or the contemporaries Pablo Capitán del Río, Teresa Lanceta, Juliana Cerqueira or David Bestué.
All the culture that goes with you awaits you here.
subscribe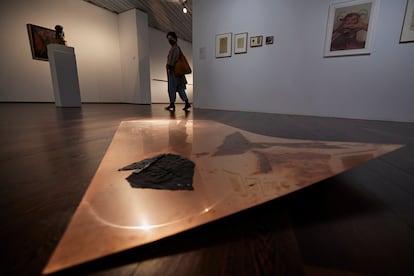 View of one of the rooms of the exhibition 'The sight and the touch'. Fermin Rodriguez
cycle of 'performance'
Parallel to the exhibition, the Federico García Lorca Center in Granada has organized a series of performances for this Wednesday, and Friday, January 21. Niño de Elche, today, and Javiera de la Fuente, on Friday, star in the two sessions, curated by Isabel de Naverán, entitled an invisible mist. "Dance is a fight that the body sustains with the invisible fog that surrounds it", Federico wrote during his stay in New York, in a text dedicated to the dancer Antonia Mercé y Luque, Argentina. Pulling that thread, this researcher and curator of live arts from the Reina Sofía Museum's Department of Public Activities has summoned the two artists to "deepen into a proposal on resonance, tactility, bodily perception, the non-visible and the possibility of physical contact other than what is known and practiced", he explains.
Niño de Elche comments on his piece, entitled The winds carry lies, which comes from a flamenco copla, that its intention is "to generate a space for experimentation on what we understand by the voice, specifically by the voice as a lie". And he adds: "We have always understood the voice as the representation of the deepest self and the purest of being". The singer, however, is "in total disagreement with that, which is a totally conservative approach." From there, he practices an improvisation exercise "in relation to the voices, the space and the air".
The artists are not limited, however, to their performance. Niño de Elche will debate with Fernando Colina, psychiatrist and essayist, while Javiera de la Fuente will speak with Andrea Rodrigo, philosopher, researcher and curator in the field of contemporary dance and choreography.
Exhibition hours
sight and touch [ca. 1929-30]. Until February 13. Exhibition Hall of the FGL Center. Free entrance, until capacity is completed. Hours: Tuesday to Saturday, from 11:00 a.m. to 2:00 p.m. and from 5:00 p.m. to 8:00 p.m. Sundays and holidays, from 11.00 to 14.00. Closed Monday.
Performance cycle: January 19 and 21, 2022, at 7:00 p.m. FGL Center Theatre. Free entrance, until capacity is completed.
---