Encanto (2021) has a direct hit. The brand new musical Disney film reaches new heights with the song "We Don't Talk About Bruno". The song is the highest-ranking song from a Disney cartoon in 26 years.
"We Don't Talk About Bruno" dethrones "Let It Go" from Frozen (2013). The new song from Encanto has been streamed 29 million times since its release in November and a whopping 8,000 downloads were purchased. The song is currently at number 4 on the charts.
"Let It Go" "only" made it to number 5 on the charts in 2014. This reached the Frozen song five months after its release and then peaked. "We Don't Talk About Bruno" already beats the record after two months and can therefore rise in the charts.
The song was written by Hamilton star Lin Manuel Miranda. Encanto revolves around a people living in the mountains, where everyone has a magical gift. Some can make objects move, others are mega strong or can even change shape. But not everyone is blessed with a gift. Mirabel has no gift and therefore falls a bit outside the boat in the village.
Check out the Encanto song "We Don't Talk About Bruno" here:
Encanto is now available on Disney+, as is Frozen.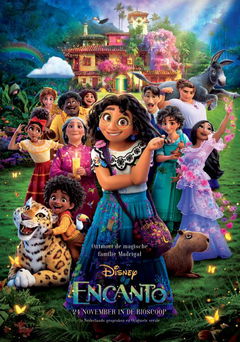 7.3 Check out Disney+ • The story of an extraordinary family, Mardigal, who lives in a magical house hidden in the mountains of Colombia.
Image: Still 'Encanto' via Filmdepot / The Walt Disney Company
.
---