If poetry had an impact on advertising before or this one in poetry is an open debate more rhetorical than anything else. Because both territories have always looked at each other out of the corner of their eyes and have influenced each other in a resounding way. Advertising long ago copied resources such as rhymes —those simple but effective "Cider El Gaitero, famous throughout the world"; or "I'm sorry to leave this world without trying Facundo pipes…"—in his anxiety to establish an empathic connection with his audience. In a more surprising way, poetry "has bitten the advertising apple", in the words of Luis Bagué and Susana Rodríguez in their book Horror in the hypermarket (Fractals), a fun anthology on the subject.
"Terror in the hypermarket. Grocery horror. My girl has disappeared. And no one knows how it has been. Noooo." Do you remember? That magnetic eighties song by Alaska and the Pegamoids serves the authors to draw the line between two lands that seem to be from different planets, with opposing interests and goals and that, however, share a lot: the desire to communicate with the reader. With the receiver.
"It's a two-way street," says Bagué, professor at the University of Murcia, essayist, poet and critic. "Advertising has become increasingly sophisticated in camouflaging its persuasive message; and poetry has shown an exceptional ability to appropriate the cultural codes of its time. It is a love perhaps not at first sight, but ultimately and fatally reciprocated".
Stores like Ikea, cars like the Rolls Royce, tobacco brands like Lucky and objects like the Thermomix have served contemporary poets to connect feelings with readers
"For deserving the most beautiful wrap I pray every night./ For being the winner in Zara's daily battle:/ the war of the tightest jeans,/ colored, with drawings, branded ones, the most expensive,/ because it is becoming easier for my fingertips/ to travel, intuitively, through the tunnels of my torso", reads a poem by Elena Medel collected in the book and that ends: "And it is a luxury to die without breakfast."
Fernando Beltrán dedicates a poem to Ikea pencils that immerses him in a deep vital reflection: "She suddenly asks me/ how much do you think/ our room is/approximately (…) How big is love. How much silence./ How long is a life/approximately". How Coca-Cola is used by Manuel Vilas to trace his usual tribute to genealogy: "I drank it with my father / Almost fifty years ago. / I drank it with my son yesterday. / I drink it alone today. / Finish it, don't leave a drop." Aurora Luque dares with a Rap for the pilgrimage of Steve Jobs and his universe of Apple and Begoña M.Rueda dedicates a poem to Windows 98.
Stores such as Ikea, El Corte Inglés or Leroy Merlín; cars like the Rolls Royce, Volvo, Audi or Mercedes; tobacco brands like Lucky; Objects like the Thermomix and even concoctions like Sopinstant and Starbucks have served contemporary poets to connect feelings with readers in a chained circuit of sparks common to all. "Even culture badly needs advertising. Life has been identified with what advertising promises", reflects Manuel Vilas. "I have been influenced by the language of advertising and the thousands of things and products that were behind that language, from a McDonald's, a cologne, a car, some shoes or an entire country. But also ideologies, art, philosophy, cinema and literature exist from advertising". Advertising is, after all, says the Aragonese writer, the showcase of capitalism "and the windows of the universal store that the world has become drive us crazy." "Even anti-system movements need publicity machines. Today Wittgenstein would have had to change his famous 'what cannot be talked about is better to remain silent' for 'what cannot be advertised is better to remain silent'.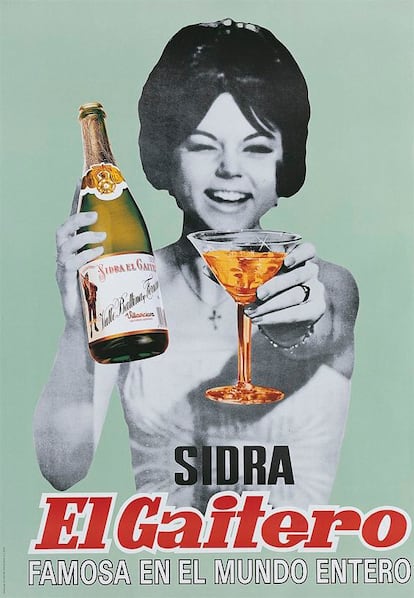 Advertisement for El Gaitero Cider
Fernando Beltrán, poet and well-known namer of things, travels in the two territories with the same dedication to the word: "I name Ikea because that poem was born as a metaphor for life shopping in one of its stores. I name The Fantastic Week of El Corte Inglés because of the emotional upheaval I suddenly feel when contrasting a newspaper photo on my knee, a girl dying in Rwanda, with a wonderful ad I see when I'm on the bus. There is no will to do it, there is life itself in those appointments."
Elena Medel remembers that it was the poet Mayakovsky who founded an advertising agency that created a hundred advertisements closely linked to constructivism and propaganda. "Advertising uses many literary figures to establish its message: a supermarket chain resorted to hyperbaton in "we strike down prices" and a rum was exhibited with the metaphor "Caribbean gold", comments Medel. Juan Bonilla, for his part, mentions "persuasion, economy, hope or the need to be memorable" as tools that advertising takes from poetry. "The difference is in the ends: advertising sells something and the poet does not." The Sevillian author quotes Hemingway in that the most terrible story he had ever read was a six-word advertisement (in English): "For sale: Baby shoes, never worn)". (Baby booties for sale. Unworn). Miguel Munarriz cites another of those ads that make you think: In the fifties, Pedro Salinas was walking through Boston when he saw a sign with the legend: "Wire, don't write" (Do not write, put telegrams). "The relationships, not at all dangerous, between advertising and poetry have been maintained since the creation of intelligent, expressive, dramatic, trickster language," says the poet and cultural manager. "If certain poetry breaks with syntax to create new ways of understanding, advertising also uses the precise word, the right word what Flaubert was looking for. The receiver must be willing to be crossed by a heterodoxy against the vulgarity of the environment.
Beltrán, who has given his name to brands such as Amena, Faunia, Aliada or Rastreator, dares to establish six differences between advertisers and poets:
1. The first tries to convince you of something; the second is usually not convinced of anything, except his own bad weather.
2. The first has 30 seconds; the second 30 lines, but he knows that everything is at stake in the choice of a single key word in the poem.
3. The first works as a team; the second is alone.
4. The first works to order; the second, for himself, without anyone asking him and sometimes it costs him dearly to open up from within.
5. The first sells; the second pours out: its guts, its ghosts, its demons, its love of rain, its foolishness, its beauty.
6. The first has concrete results; the second always feels that his quest for totality has failed again, and begins to write another poem.
And the poet Aurora Luque is also encouraged to compare by adding a fierce criticism of advertising: "Advertising persuasion seems all-powerful," she says. "But poetry confronts him, resists him, is very reluctant to allow himself to be packaged. Advertising is the business of persuasion, poetry is the leisure of persuasion. Advertising sails; poetry reveals. Advertising exhorts, invites, incites, harasses, drags people to buy, to want to possess, sells, offers, imposes. Poetry doesn't do any of that: it doesn't work because it isn't useful and above all because it isn't a servant. Poetry does not sell: it denounces us, it challenges us as sold. Poetry makes language free; advertising prostitutes him"
Susana Rodríguez Rosique, professor at the University of Alicante and co-author of Horror in the hypermarket, he concludes that poetry is not lowered by incorporating commercial language that, after all, "condenses portions of shared knowledge that allow the reader to be won over". The most curious thing, he concludes, is that Advertising students are surprised by the poems in this anthology when they discover how the slogans they use for aesthetic purposes have been infiltrated. As we see, a round trip path.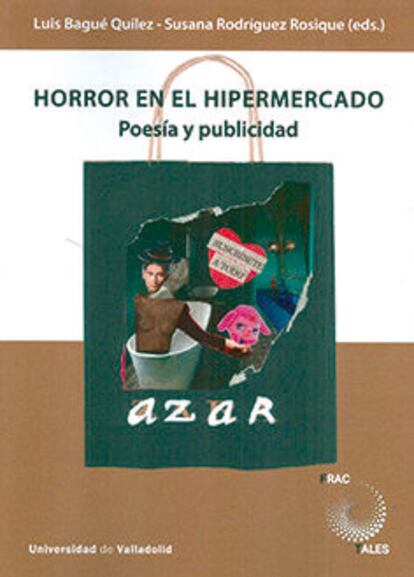 Horror in the hypermarket. poetry and advertising
Luis Bague Quílez and Susana Rodríguez Rosique (eds)
University of Valladolid, 2021
152 pages, €12.98
You can follow BABELIA on Facebook Y Twitter, or sign up here to receive our weekly newsletter.
---