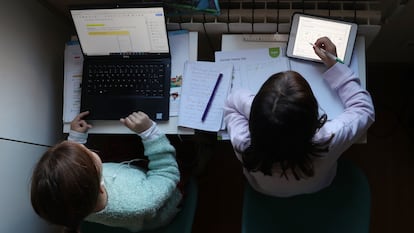 Two girls do their homework at home during the coronavirus pandemic. © Jaime Villanueva (EL PAÍS)
A court in Logroño has recognized the right of a parent to enjoy paid leave for the care of a minor child confined by close contact with a positive covid-19, understanding that caring for children is a "duty inexcusable", as stated in the Civil Code. In a ruling dated December 17, the contentious-administrative court number 1 of Logroño upheld the lawsuit filed by the civil servants' union CSIF on behalf of the father, who works as an interim official of the Justice Administration of La Rioja.
The official had to take care of his youngest son, 14 years old, during the five days that the confinement lasted derived from his contact with a positive, period during which he could not take advantage of the teleworking modality, since his functions require him to carry out their activity in person.
The Administration of Justice denied him paid leave, since the worker had pending vacation days. And he decided to deduct from this rest period the five days that the worker dedicated to taking care of his son.
The ruling underlines that the inexcusable duties of a personal nature include all those linked to the reconciliation of family and work life, and that the duties derived from paternity and filiation constitute a sufficient reason for granting this permit.
The judge considers that the care of a minor forced to confine himself due to possible contagion of coronavirus "is not frameable" within the days dedicated to his own affairs, and, in addition, this would mean discrimination against this worker compared to others who had exhausted their vacations or days off. From CSIF they have positively valued the ruling, which covers similar assumptions in which "they intend to restrict this right, both in the administration and in private companies."
He knows in depth all the sides of the coin.
subscribe
---