In addition to our overview of films on TV, we regularly highlight the best film on TV for you, so that choosing a film is even easier. Tonight our TV movie tip is the true Oscar winner The Theory of Everything (2014).
In the 1960s, Cambridge University student and future physicist Stephen Hawking (Eddie Redmayne) falls in love with his classmate Jane. At 21, Hawking learns that he has motor neuron disease. Nevertheless, he embarks on an ambitious study of time, of which, according to his doctor, he has little left.
The Theory of Everything is directed by James Marsh. Lead actor Eddie Redmayne won the Academy Award for Best Actor in 2015 for his performance as the physicist. Wondering if the movie is worth watching? Read our review here.
Watch the trailer for The Theory of Everything here:
The Theory of Everything can be seen tonight at 9:25 pm on One. The film can now also be seen on Netflix, Videoland and via Pathé Thuis.
Have you seen The Theory of Everything yet? Then view the overview of all films on TV. On this page you will find all TV movie tips for this week.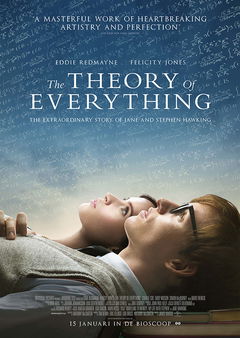 7.7
The Theory of Everything (2014)
Look at Pathé Thuis (€2.99+) • 'The Theory of Everything' tells the story of physicist Stephen Hawking. The story centers on Hawking's early years at Cambridge University where he falls in love with medical student Jane, whom he later marries.
Beeld: Still 'The Theory of Everything' via TMDb
.
---