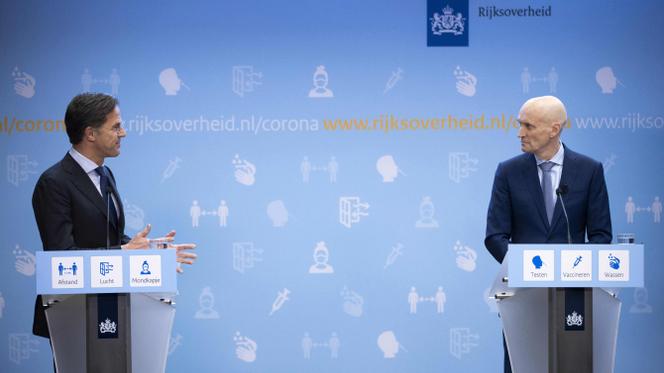 The Dutch Prime Minister, on the left, and the Minister of Health, announce the partial deconfinement, January 14, 2022. SEM VAN DER WAL / AFP
According to Dutch Prime Minister Mark Rutte, it is "an important step but a responsible risk" that his government adopted by announcing, on Friday January 14, a partial deconfinement which should come into force on Saturday.
The so-called non-essential stores, closed since December 19, will be able to reopen their doors until 5 p.m., provided that the number of people present is limited and that distancing and the wearing of a mask are imposed. Only food stores, pharmacies and supermarkets had been allowed to remain open after decisions adopted to avoid a sharp increase in Covid-19 cases during the holiday season.
As of Monday, January 17, all schools will be authorized to organize face-to-face lessons again. This was one of the priorities of the new government, as many young people say they suffer from their isolation and the suicide rate among them has risen by 15% last year.
Non-medical contact professions, hairdressers and sex workers will also be able to resume their activities. The practice of sports, indoors and outdoors, will again be possible, with however access to the rooms limited to holders of a health pass and the ban on gathering the public.
Home visits will be allowed for four people over the age of 13. The Dutch authorities advise limiting outdoor gatherings to the same number of people. Wearing a surgical mask is strongly recommended in public spaces and in the workplace. Finally, people cured of Covid-19, recently infected but not showing symptoms or having received a third dose of vaccine for at least a week (i.e. half of the 86% of Dutch people vaccinated) will no longer have to observe quarantine if they have been in contact with an infected person.
Until now, a ten-day quarantine was imposed on those whose loved ones had been infected. If they perform a crucial function and do not show symptoms, they will now be able to go to work, provided they perform a daily self-test, and a PCR test after five days.
Read also Article reserved for our Covid-19 subscribers: how is the "magic formula" of collective immunity calculated
Cafes, restaurants and culture will have to wait
Two sectors will however have to wait until January 25, at least, to hope to also benefit from a lifting of restrictions: cafes and restaurants on the one hand, culture on the other. Dance lessons and music lessons are possible again, but theatres, cinemas, museums and performance halls must keep their doors closed. "I fully understand that we consider this unfair but we cannot do everything at the same time", explained Mr. Rutte, accompanied by the new Minister of Health, Ernst Kuipers, a doctor who led the national network. intensive care. It was impossible, explained the two officials, to authorize the resumption of all contacts at once.
You have 27.73% of this article left to read. The following is for subscribers only.
---