Family film Hotel Transylvania: Transformania (2021), the fourth installment in the Hotel Transylvania series, is now available on Amazon Prime Video. In the animated film, the 'sampling beam' goes haywire, and that causes a lot of hassle.
The runaway beam turns Johnny into a monster, while Drac, Van Helsing and all the other monster friends become human again. They lose all of their special powers, but meanwhile, Johnny enjoys his newfound abilities to the fullest. Still, they decide things need to be fixed, and together they embark on a wild adventure.
The animated film is directed by Derek Drymon and Jennifer Kluska and the voice cast includes Brian Hull, Brad Abrell, Selena Gomez, Andy Samberg, David Spade, Steve Buscemi, Kathryn Hanhn, Jim Gaffigan, Molly Shannon, Keegan-Michael Key and Fran drescher. The original plan was that Hotel Transylvania: Transformania would appear in cinemas, but the makers did not see it that way with the current pandemic. Last year, Sony sold the rights to the film to Amazon Studios for more than $100 million.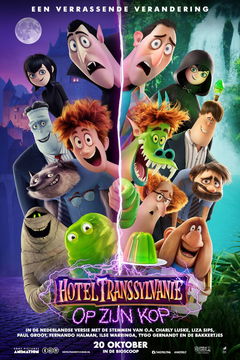 6.6
Hotel Transylvania: Transformania (2021)
When the 'The Sampling Ray' goes haywire, this mysterious invention invented by Van Helsing turns Drac and his monster friends into humans, while Johnny becomes a monster.
Hotel Transylvania: Transformania can now be seen on Amazon Prime Video. The full range of Amazon Prime Video can be found here.
Beeld: Still 'Hotel Transylvania: Transformania' via TMDb
Tekst: Amazon Prime Video
.
---