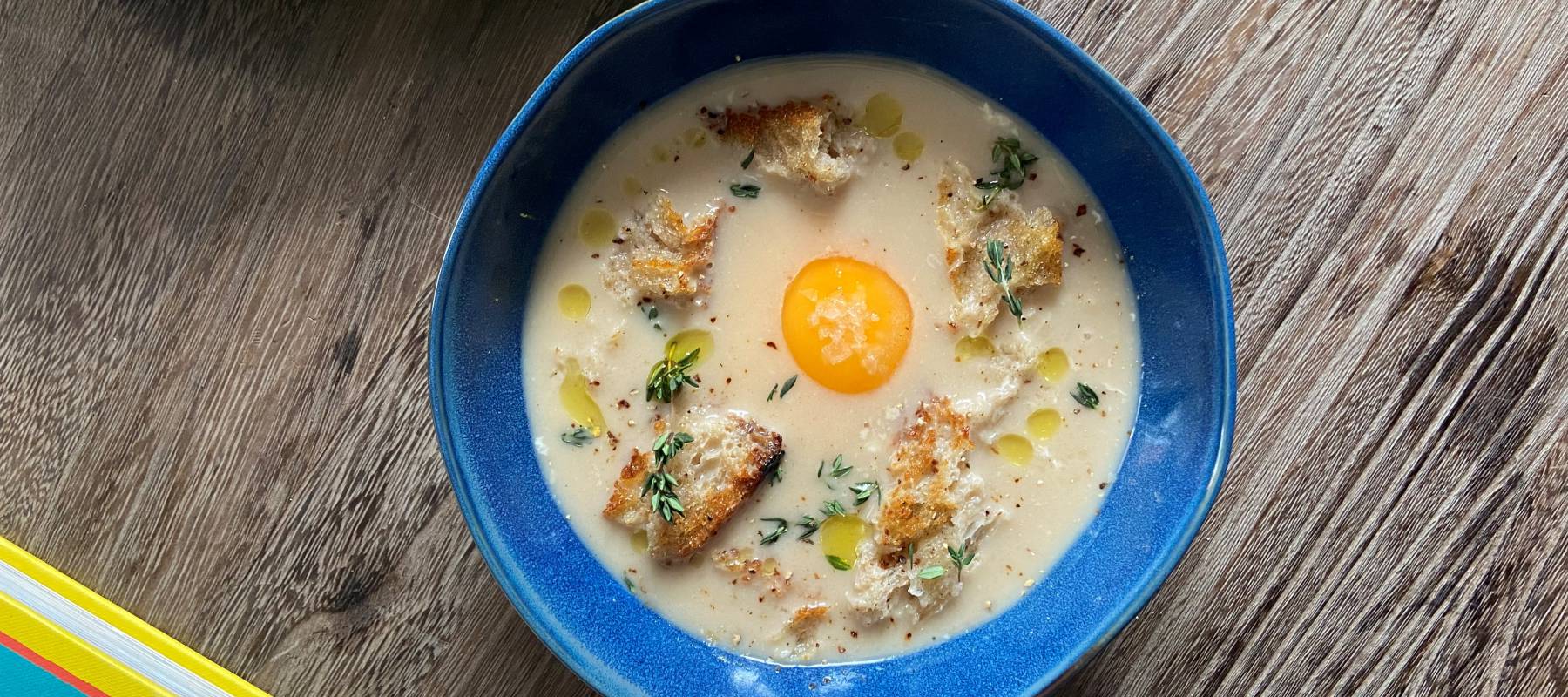 There is something tremendously primal and comforting about soups and preparations that include eve bread previously toasted and then cooked in a liquid. From the Castilian soup -with the joy of the paprika and the forcefulness of the chorizo- to the fish "a lo poor" but paradoxically delicious, the almost dry Mallorcan soups de matanza or the torrada amb mandonguilles soup that Miquel Saborit taught us to prepare. Giving leftover bread a second was a way to cheat hunger and optimize the family economy to the maximum in times of scarcity, but even if my finances allowed me to feed myself daily on blue lobster spherifications, I would still look for all possible ways not to throw away absolutely nothing from a good bread (which, to no one's surprise, usually also gives good results in all its possible recycling, from grated to batter, in sham or gratin.
Today's farigola soup comes for me with a ticket to the past included, since my maternal grandfather prepared a somewhat more spartan version -with dried thyme and simply removing the branches- many Saturday nights in autumn and winter, and the smell of this herb in the kitchen always reminds me of those times. The recipe comes out of the book Cook with Joan Roca at low temperature but with a small variation: instead of cooking the egg following this technique, we will cook it directly in the soup for two or three minutes, as if it were poached (and much easier).
I have also increased the amounts of soup and bread a bit compared to the original recipe to make a slightly more generous dish, and although Joan Roca grinds it into a fine cream, sometimes I feel like breaking it up with my hands to find bits of different size and texture. The most common thing would be to use white bread, but if the remains of the one you have include seeds or if it is rye – integral and with a moist, dense and aromatic crumb – the result will be neither better nor worse, it will simply be different. Fresh thyme provides so many nuances that simply with water it is already very good; If you want to use broth to give it a little more substance, use a mild vegetable or chicken broth so that it does not mask its flavor.
Difficulty
Kindergarten soup.
Ingredients
For 4 persons
A bunch of fresh thyme (about 10 sprigs) 3 tablespoons of olive oil (and a little more to serve) 2 cloves of garlic 1.2 l of water or mild broth (chicken or vegetables) 150 g of eve bread Salt Pepper 4 eggs happy chickens
Preparation
Cut the bread into thin slices and toast it in a toaster or griddle until crisp. Put the oil in a saucepan and brown the peeled and sliced ​​garlic. When they are colored, add the water or broth and the thyme tie. Cook everything over low heat for about ten minutes. Pass through a fine sieve to remove the garlic and thyme remains and return to the heat with the bread (break it with your hands). Cook for another five minutes over low heat or until the bread is soft. If you are looking for a cream, blend everything until you get the desired texture. If not, leave as is.Add one egg per person, cook for a couple of more minutes over low heat and serve with some tender leaves or thyme flowers and a drizzle of raw oil and serve. It can also be topped with salt and pepper flakes or crunchy croutons.
If you make this recipe, share the result on your social networks with the hashtag #ComidistaRecipes. And if it goes wrong, complain to the Chef's Ombudsman by sending an email to [email protected]
.
---